Home Page

>
Soups and Stews
> Tortilla Soup
Tortilla Soup
This may be my new favorite soup recipe. Although many tortilla soup recipes call for simmering the soup with tortillas and cilantro mixed in, I prefer leaving these ingredients out and using them as a garnish. That way the tortillas stay crisp and the cilantro remains bright green and flavorful. I think my kids like this tortilla soup recipe, not only for the taste, but also because they can add their own toppings.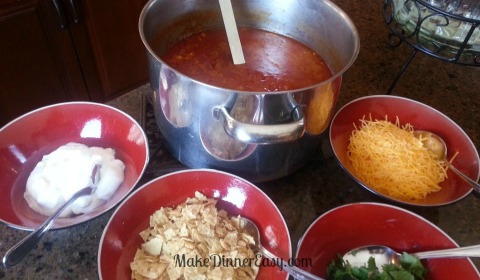 Tortilla Soup Recipe
(Prep Time: 15 minutes. Cooking Time: 30 minutes)
1 Tablespoon olive oil,
3 cloves garlic, minced
½ large onion, diced
2 Tablespoons flour
1 (32 ounce) box chicken broth
1 (14 ounce) can diced tomatoes, drained
1 Tablespoon, cumin
1 ½ teaspoon chili powder
½ teaspoon salt or to taste
1/8 teaspoon cayenne pepper, or to taste
2 large cooked chicken breasts or 3 cooked chicken thighs, diced (pre-cooked rotisserie chickencan also be used)
Cilantro, finely chopped
Shredded cheddar cheese
Sour cream
Crushed tortilla chips

1. Heat olive oil in a large stockpot. Add onion and garlic, and sauté until tender.
2. Remove pot from heat, add flour and stir until the flour is mixed in very well.
3. Return the pan to medium heat and add chicken broth. Stir constantly until mixture begins to thicken. Add remaining ingredients, reduce temperature to low and simmer for at least 20 minutes.
4. When ready to serve, ladle into bowls and top with cilantro, shredded cheese, sour cream and crushed tortilla chips


Serves 4-5. This recipe can be doubled and leftovers can be frozen.

This is a great soup to make, not only for a weeknight dinner but it also works great for a party.  You can make the soup in advance and place it in a slow cooker on the "keep warm" setting.  When you're ready to eat, place bowls of toppings out near the slow cooker and let your guests serve themselves!
Click on any of the images below to see what I've pinned to Pinterest recently!.  If you like to see the recipes and cooking tips that I discover and pin, I'd love to have you follow me on Pinterest!

Visit Crystal@makedinnereasy's profile on Pinterest.
Thanks for stopping by! 
If you enjoy cooking or are looking for new recipes to try,
these are ways to see more yummy ideas: 
I also share all kinds of cooking tips and recipes on
Facebook . Twitter . Pinterest . and Instagram .
I'd love to have you follow along!

Each page on this site has a comment box, so if you want to share how a recipe turned out or something you added to make it even better, feel free to comment below!