Home Page

>
Salad Recipes
> Taco Salad
Recipe Background
I received this delicious recipe for taco salad from a co-worker when I was single. At the time I thought I would never need to make so much taco salad at once. Now, with four kids, I can't make enough of this. I even bought a giant commercial bowl so I can make enough of this salad when we have parties. Needless to say, my kids go crazy for this dish and I make it all the time.
The dressing and the meat can be made ahead and refrigerated. The veggies can also be prepped ahead of time to make assembly easier. Once the dressing is added, it needs to be eaten immediately.
When ground round is on sale, I often cook additional meat with the onions and seasonings and freeze it for a fast dinner on a busy night (it will just need to be thawed and warmed on the stove or in the microwave). I highly recommend buying the leanest ground round you can. Anything less will taste very fatty in this recipe; ground turkey can also be substituted.
Taco Salad
Prep Time and Cooking Time: 30 minutes
1 pound, lean ground round or ground turkey
1 small onion, diced
½ package taco seasoning
6 ounces (1/2 of a large bag) of taco flavored Doritos, crushed
Romaine Lettuce, chopped into small slices (I use 2-3 large heads for my family and it really tastes better chopped rather than torn)
2 tomatoes, chopped
2 cups, shredded cheddar cheese

1. Brown meat and onion until cooked well. Add taco mix and stir. Set aside.
2. Mix other ingredients in a large bowl and add meat (meat should be warm when you add it)
3. Add an amount of dressing that suits your taste and toss well (if you make the recipe below, you will have left over dressing).
For the dressing: you can use bottled Italian dressing or mix together:
¼ cup wine vinegar
¾ cup oil
½ teaspoon paprika
½ teaspoon dried oregano
½ teaspoon each, salt and pepper
½ teaspoon garlic and onion powder (or 1 clove garlic, minced)
½ teaspoon sugar
½ teaspoon mustard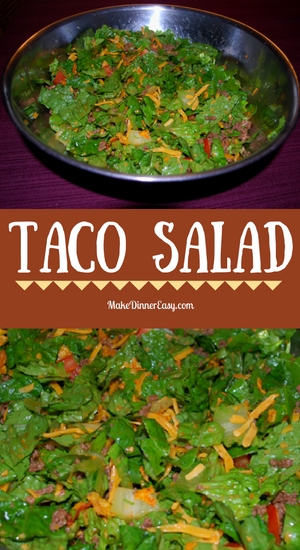 Click on any of the images below to see what I've pinned to Pinterest recently!.  If you like to see the recipes and cooking tips that I discover and pin, I'd love to have you follow me on Pinterest!

Visit Crystal@makedinnereasy's profile on Pinterest.
Thanks for stopping by! 
If you enjoy cooking or are looking for new recipes to try,
these are ways to see more yummy ideas: 
I also share all kinds of cooking tips and recipes on
Facebook . Twitter . Pinterest . and Instagram .
I'd love to have you follow along!

Each page on this site has a comment box, so if you want to share how a recipe turned out or something you added to make it even better, feel free to comment below!