Home Page

>
Soups and Stews
> Split Pea Soup
Slow Cooker Split Pea Soup
with Turkey Ham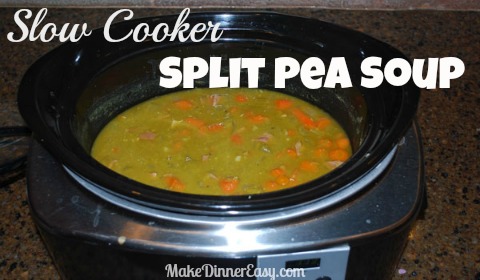 This version of split pea soup may be the easiest dinner you will ever make; it takes very little prep time. While this recipe calls for turkey ham, you certainly could use ham or a ham bone. I can find a 2 pound Jennie-O Brand mini ham in the meat department of my local grocery store. This will yield you about 6 cups of diced ham. Refrigerate or freeze what you don't need for this recipe and use it for another meal. If you want to use regular ham, you can ask the deli department to cut you a thick slice, or ham steaks can often be found in the meat department as well. You can also go vegetarian and omit the ham completely!
Slow Cooker Split Pea Soup Recipe

(Prep Time: 10 minutes. Cooking Time: 4-10 hours)

1 (16 ounce) package of dried green split peas
3 cups diced turkey ham
1 1/2 cups sliced carrots (about 20 baby carrots, chopped)
1 large onion, diced
3 stalks of celery, diced
2 cloves garlic, minced
1 teaspoon salt (or less if desired)
1/4 teaspoon, freshly ground black pepper
6 cups chicken broth

Rinse the split peas, drain well and place in a slow cooker. Add remaining ingredients. Cover and cook on high for 4-6 hours or on low for 9-10 hours. The soup is done when the individual peas can no longer be identified and the soup is a smooth consistency.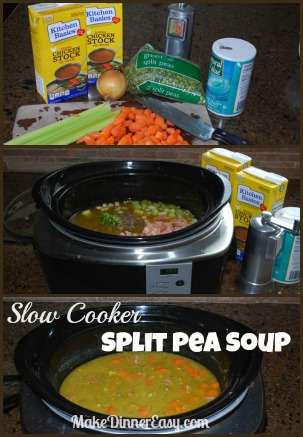 Click on any of the images below to see what I've pinned to Pinterest recently!.  If you like to see the recipes and cooking tips that I discover and pin, I'd love to have you follow me on Pinterest!

Visit Crystal@makedinnereasy's profile on Pinterest.
Thanks for stopping by! 
If you enjoy cooking or are looking for new recipes to try,
these are ways to see more yummy ideas: 
I also share all kinds of cooking tips and recipes on
Facebook . Twitter . Pinterest . and Instagram .
I'd love to have you follow along!

Each page on this site has a comment box, so if you want to share how a recipe turned out or something you added to make it even better, feel free to comment below!