Home Page

>
Side Dish Recipes
> Sauteed Green Beans
Sauteed Green Beans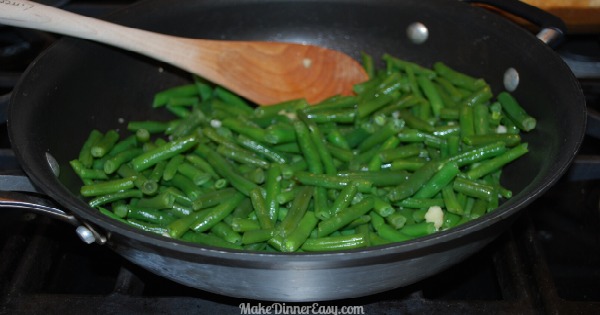 If you normally boil or steam green beans, consider trying this recipe for sautéed green beans. This is really more of a cooking method than a recipe but this is how my family likes to eat green beans. I prefer buying green beans at Costco. Although their stock is seasonal, they often carry a 2 pound bag of fresh "French Beans" in their cold produce section. If 2 pounds seems like too much, make half a bag one day and cook the remainder on another day. These beans don't need to be snapped or trimmed. They just need to be rinsed and drained. If you used a thicker green bean you will need to increase the cooking time.
Sautéed Green Beans
(Prep Time: 5 minutes. Cooking Time: 10-12 minutes)
1 pound French green beans
1 cup water
1 Tablespoon butter
3 cloves garlic minced
½ teaspoon salt or to taste

1. Rinse green beans in cold water and drain
2. Place drained green beans in a large skillet and add water
3. Place skillet over medium heat and bring to a boil, cover and reduce heat to medium low
4. Uncover the pan and stir after 3 minutes, checking to make sure there is still water in the bottom of the pan. Continue to cook with the cover on for an additional 3 minutes. Again, keep an eye on the water level. At the end of 6 minutes you want there to be just a little water left in the pan, but not so little that the green beans scorch. If additional water is needed add ¼ cup.
5. After the beans have been cooking a total of 6 minutes with the cover on, take the cover off and add the butter, and garlic. Continue to cook uncovered for an additional 5 minutes, stirring occasionally, or until green beans are crisp tender. Stir in salt and serve.
Serves: 4-6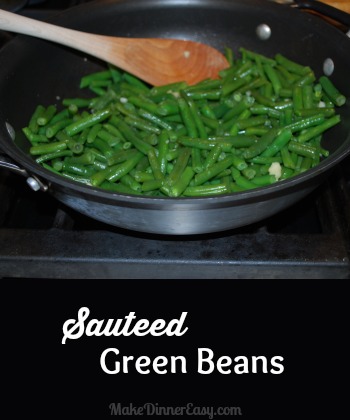 Click on any of the images below to see what I've pinned to Pinterest recently!.  If you like to see the recipes and cooking tips that I discover and pin, I'd love to have you follow me on Pinterest!

Visit Crystal@makedinnereasy's profile on Pinterest.
Thanks for stopping by! 
If you enjoy cooking or are looking for new recipes to try,
these are ways to see more yummy ideas: 
I also share all kinds of cooking tips and recipes on
Facebook . Twitter . Pinterest . and Instagram .
I'd love to have you follow along!

Each page on this site has a comment box, so if you want to share how a recipe turned out or something you added to make it even better, feel free to comment below!