Home Page

>
Side Dish Recipes
> Roasted Sweet Potatoes
Roasted Sweet Potatoes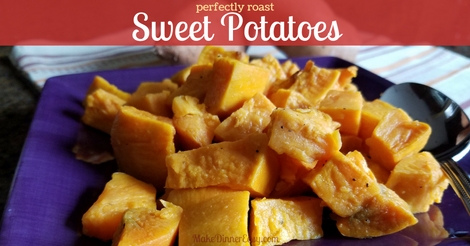 Roasted Sweet Potatoes are a great alternative to the casserole or mashed versions. The trick to this recipe is roasting onions along with the potatoes which makes for a great flavor combination.
3 cups peeled sweet potatoes cut into 1"cubes (about 2 large or 3 medium potatoes)
1 medium onion, diced (medium dice works great)
2 Tablespoons light olive oil
1 teaspoon salt

Place the cubed potatoes and diced onions on a large baking pan or rimmed cookie sheet. Pour olive oil and salt on top. Use your hands to toss and coat the veggies evenly with the olive oil. Spread out the veggies into a single layer. Bake at 450'F for 20-25 minutes. Half way through the baking time, use a spatula to turn the pieces over.
Serves 6.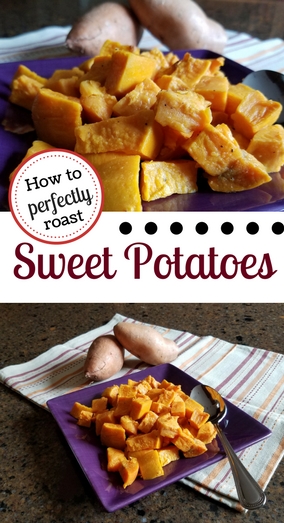 Click on any of the images below to see what I've pinned to Pinterest recently!.  If you like to see the recipes and cooking tips that I discover and pin, I'd love to have you follow me on Pinterest!

Visit Crystal@makedinnereasy's profile on Pinterest.
Thanks for stopping by! 
If you enjoy cooking or are looking for new recipes to try,
these are ways to see more yummy ideas: 
I also share all kinds of cooking tips and recipes on
Facebook . Twitter . Pinterest . and Instagram .
I'd love to have you follow along!

Each page on this site has a comment box, so if you want to share how a recipe turned out or something you added to make it even better, feel free to comment below!