Home Page

>
Salad Recipes
> Raspberry Spinach Salad
Raspberry Spinach Salad
with Raspberry Vinaigrette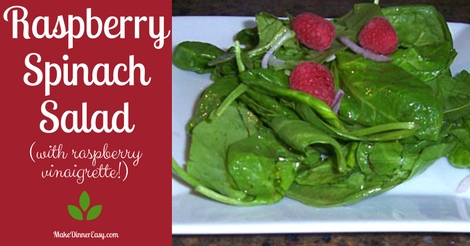 This is a simple Raspberry Spinach Salad recipe that includes fresh raspberries and a homemade raspberry vinaigrette dressing. If you use olive oil in the vinaigrette, I would recommend using a light variety. Regular olive oil will be a bit too heavy for this recipe.I haven't included quantities in the salad portion of this recipe as you can just use whatever amount of each item that appeals to you. The dressing will make enough to dress a salad for 8-10 people.
Salad
Baby Spinach leaves
Thinly sliced red onion
Fresh Raspberries

Raspberry Vinaigrette
1/2 cup canola oil or light olive oil
4 Tablespoons raspberry vinegar
3 teaspoons granulated sugar
1/4 teaspoon Dijon mustard
1/4 teaspoon salt

Combine salad ingredients in a large bowl. In a separate bowl or cup, combine the vinaigrette ingredients. Add just enough dressing to lightly coat the spinach. Most likely you will not use all of the dressing but it will keep for at least a week in the refrigerator. Remember if you do use olive oil, that it will solidify when cold but will return to it's normal consistency when brought back to room temperature.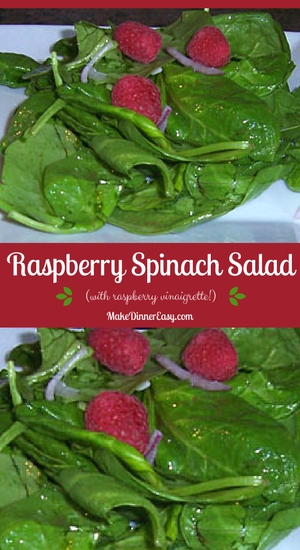 Click on any of the images below to see what I've pinned to Pinterest recently!.  If you like to see the recipes and cooking tips that I discover and pin, I'd love to have you follow me on Pinterest!

Visit Crystal@makedinnereasy's profile on Pinterest.
Thanks for stopping by! 
If you enjoy cooking or are looking for new recipes to try,
these are ways to see more yummy ideas: 
I also share all kinds of cooking tips and recipes on
Facebook . Twitter . Pinterest . and Instagram .
I'd love to have you follow along!

Each page on this site has a comment box, so if you want to share how a recipe turned out or something you added to make it even better, feel free to comment below!