Home Page

>
Salad Recipes
> Orzo Pasta Salad
Orzo Pasta Salad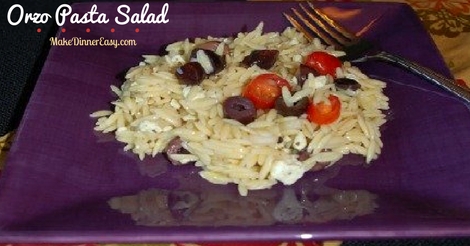 This orzo pasta salad is a main stay recipe in my house. It is great as a side salad with grilled meats, and is also nice to eat alongside of a hearty sandwich. You can make this into a main dish by adding cooked diced chicken or shrimp. 
I usually buy pitted kalamata olives, that are called for in this recipe either in a jar at the grocery store or at the "olive bar" at my local store.  I found that it helps to cut them in half or in thirds before adding them to the pasta.  Also, word of advice, make sure that the pasta is cold/cool before adding the feta cheese.  I made that mistake once and the cheese melted a bit too much!  This recipe is really flexible so if you don't care for kalamata olive you can use sliced black olives and it also would taste great with diced mozzarella cheese or even crumbled goat cheese instead of feta.

Orzo Pasta Salad Recipe

(Prep Time: 25 minutes)
1 pound orzo pasta
4 green onions, chopped
6 ounces cherry tomatoes (about 20)
1 Tablespoon fresh dill, chopped
1 cup kalamata olives, chopped
½ cup feta cheese

Dressing:
2/3 cup light extra virgin olive oil
4 Tablespoon red wine vinegar
1 Tablespoon balsamic vinegar
1 teaspoon mustard
1 teaspoon oregano
½ teaspoon salt
¼ teaspoon black pepper
½ teaspoon sugar

1. Combine all of the salad ingredients in a large mixing bowl. I recommend quartering the cherry tomatoes.
2. Combine all of the dressing ingredients in a glass jar with a lid. Shake to mix.
3. Initially add about 1/3 cup of the dressing to the salad mixture. Adjust seasoning and amount of dressing to suit your tastes. If you prepare the pasta salad in advance you will probably need to add additional dressing as the pasta absorbs the dressing over time.

Serves: 10 as a side dish. You can add shrimp or other protein and make this a main dish as well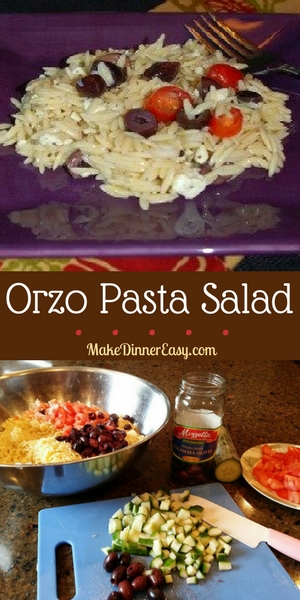 Click on any of the images below to see what I've pinned to Pinterest recently!.  If you like to see the recipes and cooking tips that I discover and pin, I'd love to have you follow me on Pinterest!

Visit Crystal@makedinnereasy's profile on Pinterest.
Thanks for stopping by! 
If you enjoy cooking or are looking for new recipes to try,
these are ways to see more yummy ideas: 
I also share all kinds of cooking tips and recipes on
Facebook . Twitter . Pinterest . and Instagram .
I'd love to have you follow along!

Each page on this site has a comment box, so if you want to share how a recipe turned out or something you added to make it even better, feel free to comment below!