Home Page

>
Dessert Recipes
> Molasses Cookie Recipe
Molasses Cookie Recipe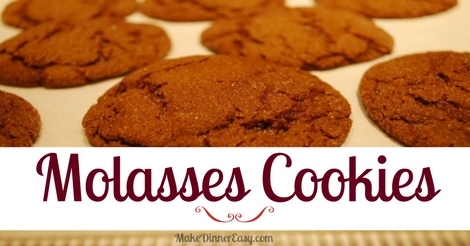 This is my Mom's Molasses Cookie Recipe, one of my personal favorites and a big time favorite with my husband and kids. The secret to this recipe is to slightly under-bake them, don't let them brown or they'll be too crispy. You'll love the smell of these when there in the oven. When you first take them out of the oven they will be a little puffy, then they deflate a bit and have a crinkle top. Pure yum!
3/4 cup unsalted butter
1 cup sugar
1/4 cup molasses
1 egg
2 teaspoon baking soda
2 cups of flour
1/2 teaspoon ground cloves
1/2 teaspoon ground ginger
1 teaspoon cinnamon
1/2 teaspoon salt

approximately 1/2 cup granulated sugar to roll the dough balls in

Melt the butter in a medium stock pot, let cool. Add the sugar, molasses, and egg, beating well. In a separate bowl, combine the flour, spices, and salt. Add the flour mixture to the butter mixture. Mix well, cover, and chill. Form into one inch balls (I roll the dough between my palms to form a ball). Roll each ball in granulated sugar and place on cookie sheets 2" apart. Bake at 375'F for 8-10 minutes.
Yield about 24-26 cookies and I always double, or triple the recipe!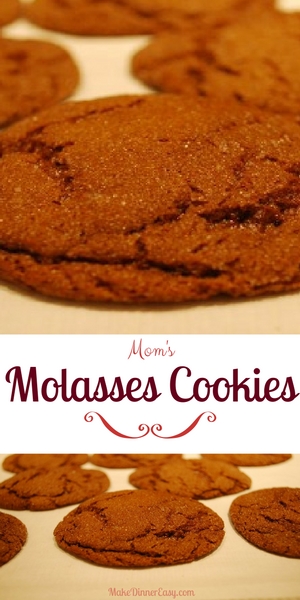 Click on any of the images below to see what I've pinned to Pinterest recently!.  If you like to see the recipes and cooking tips that I discover and pin, I'd love to have you follow me on Pinterest!

Visit Crystal@makedinnereasy's profile on Pinterest.
Thanks for stopping by! 
If you enjoy cooking or are looking for new recipes to try,
these are ways to see more yummy ideas: 
I also share all kinds of cooking tips and recipes on
Facebook . Twitter . Pinterest . and Instagram .
I'd love to have you follow along!

Each page on this site has a comment box, so if you want to share how a recipe turned out or something you added to make it even better, feel free to comment below!