Minestrone Soup
Home Page

>
Soups and Stews
> Minestrone Soup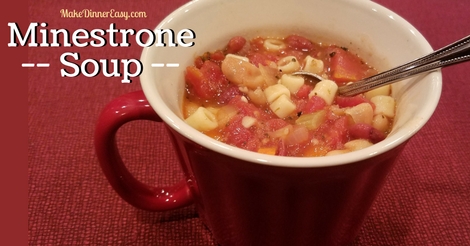 Recipe Background
This recipe for Minestrone Soup is super easy and super fast. Pair it with a side salad and some bakery bread and you will have a healthy and filling meal. I like to cook and add the pasta separately so it doesn't get too soft. Sprinkle a little Parmesan cheese on top for extra flavor if you desire.
(Prep Time: 15 minutes. Cooking Time: 30 minutes)
1 Tablespoon olive oil
1 onion, diced
3 garlic cloves, minced
1 large carrot, diced
2 stalks celery, diced
2 (15 oz) cans Italian style petite diced tomatoes
1 (15 oz) can cannellini beans, drained
1 (15 oz) can kidney beans, drained
1 (32 oz) box chicken broth
1 small zucchini, diced
1 Tablespoon basil or oregano
1 ½ cups small dried pasta such as small shells
Parmesan cheese

1. In a large stock pot, sauté onion, garlic, carrots and celery in olive oil for a few minutes. 
2. Add remaining ingredients, except for pasta. Bring to a low boil and then reduce heat. Allow soup to simmer for at least 30 minutes .
3. Prior to serving, cook pasta as directed
4. To serve, place a ¼ cup of cooked pasta in each bowl and top with soup. Sprinkle Parmesan cheese on top as desired.
Serves: 6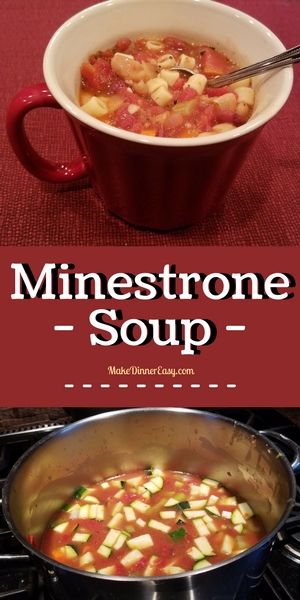 Click on any of the images below to see what I've pinned to Pinterest recently!.  If you like to see the recipes and cooking tips that I discover and pin, I'd love to have you follow me on Pinterest!

Visit Crystal@makedinnereasy's profile on Pinterest.
Thanks for stopping by! 
If you enjoy cooking or are looking for new recipes to try,
these are ways to see more yummy ideas: 
I also share all kinds of cooking tips and recipes on
Facebook . Twitter . Pinterest . and Instagram .
I'd love to have you follow along!

Each page on this site has a comment box, so if you want to share how a recipe turned out or something you added to make it even better, feel free to comment below!