Mexican Salsa Recipe
A super easy Mexican Salsa Recipe that is fast enough to make for a weeknight snack but tasty enough for a party appetizer! 
With four teens in my house, there is rarely a time that I don't have salsa in the fridge.  A frequent favorite snack in my house is a plate of nachos.  My kids spread tortilla chips on a plate, sprinkle with shredded cheddar cheese, melt the cheese in the microwave oven and then top with sour cream and salsa. 

Do I purchase salsa, sure.  But usually only the deli variety with freshly chopped tomatoes.  But, if I have the ingredients in the house, I much prefer the taste of homemade!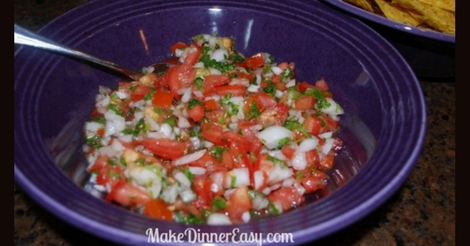 Mexican Salsa Recipe

Ingredients:
4 ripe tomatoes, finely chopped (about 3 cups)
1/2 cup cilantro, chopped
1 small onion, chopped (about 3/4 cup)
1 chopped jalapeno pepper (you can remove the seeds if you want it less spicy)
1/2 of a lime, juiced or to taste

1/4 teaspoon salt or to taste
Instructions:
Combine all of the ingredients in a large bowl and serve with chips.  It's preferred to make the salsa at least an hour ahead of time to let the flavors mingle.
Variations:
This is really a recipe you can make your won.  For my kids I usually take the seeds out of the jalapeno first before chopping.  To do this slice the jalapeno in half lengthwise and use a spoon to remove the seeds and the inner membrane. Rinse the pepper, cut off the stem, and then chop finely.
You can experiment with the amount of onions, cilantro, salt and lime juice that you prefer.  And, if you don't have cilantro in the house or you don't care for it you can omit it or even use fresh flat leaf Italian parsley.

Also, you can add other ingredients including:
a can of drained and rinsed black beans
a can of drained kernel corn
a sprinkle of cumin
some ground cayenne pepper
fresh diced peaches
fresh diced mango
What do you add to your Salsa?  Feel free to comment below! And Pin this for later!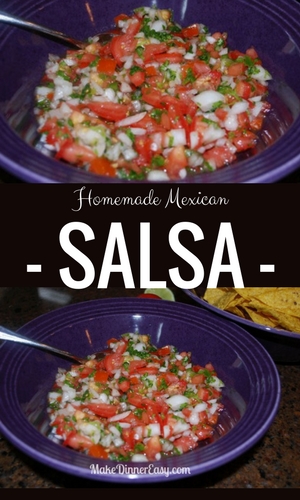 Click on any of the images below to see what I've pinned to Pinterest recently!.  If you like to see the recipes and cooking tips that I discover and pin, I'd love to have you follow me on Pinterest!

Visit Crystal@makedinnereasy's profile on Pinterest.
Thanks for stopping by! 
If you enjoy cooking or are looking for new recipes to try,
these are ways to see more yummy ideas: 
I also share all kinds of cooking tips and recipes on
Facebook . Twitter . Pinterest . and Instagram .
I'd love to have you follow along!

Each page on this site has a comment box, so if you want to share how a recipe turned out or something you added to make it even better, feel free to comment below!