Home Page

>
Soups and Stews
> Matzo Ball Soup
Recipe Background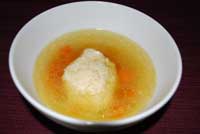 This matzo ball soup recipe is a combination of recipes from a number of friends and according to my kids, this is the best chicken soup recipe to eat when you are sick. Whether you are cooking for a holiday dinner, trying to ward off a cold, or just want a warm meal, this may become one of your favorite chicken soup recipes as well. Thanks to Hilary, Edna, and Saree for contributing to my education on how to make matzo ball soup.
Matzo Ball Soup
Preparation Time: 15 minutes. Cooking Time: 1.5 to 2 hours

4-5 pounds bone in, skin on chicken,(whole or pieces)
4-6 stalks of celery, coarsely chopped
6 carrots, coarsely chopped (don't need to peel, just scrub)
1 large onion, coarsely chopped
1 large parsnip, coarsely chopped
½ cup fresh flat leaf Italian parsley
¼ cup fresh dill
12 cups of water
4-6 teaspoons of chicken stock paste, or chicken bouillon
3-4 teaspoons salt, or to taste
1 teaspoon freshly ground black pepper

Place all of the ingredients in a large stock pot. Bring to a boil and skim the top if necessary. Partially cover, reduce heat and simmer for 90 minutes. Taste broth and add additional salt or seasonings if desired. Remove chicken and veggies (you can leave some carrots and onions in if desired) and serve with matzo balls. I find it easiest to place a colander over a large pot in the sink and pour the soup through the colander, reserving the broth in the new pot. Then you can add back any carrots, onion or chicken as desired to the broth.Makes about 12 cups.
Matzo Balls
1 cup matzo ball mix (both packages in a 4.5 oz box)
4 eggs
¼ cup vegetable oil
¼ cup chicken broth (you can use the soup that you're making)
1 teaspoon salt

In a medium sized bowl, beat together the eggs, oil and broth. Add remaining ingredients and stir well. Allow to rest for at least 15 minutes (or up to an hour in the refrigerator). Bring a large stock pot of salted water to boil. Using wet hands, form the matzo ball mixture into golf ball sized balls. After you form each ball, drop it into the boiling water. After all balls are made, reduce heat to low, cover and cook for 30 minutes. Makes about 12 matzo balls.
To serve, use a slotted spoon to place 1-2 matzo balls in a bowl, cover with broth and serve.
A make ahead tip from Edna, matzo balls can be made and frozen on a parchment paper lined cookie sheet. When frozen, transfer balls into a zip style bag and keep in the freezer until needed.
Click on any of the images below to see what I've pinned to Pinterest recently!.  If you like to see the recipes and cooking tips that I discover and pin, I'd love to have you follow me on Pinterest!

Visit Crystal@makedinnereasy's profile on Pinterest.
Thanks for stopping by! 
If you enjoy cooking or are looking for new recipes to try,
these are ways to see more yummy ideas: 
I also share all kinds of cooking tips and recipes on
Facebook . Twitter . Pinterest . and Instagram .
I'd love to have you follow along!

Each page on this site has a comment box, so if you want to share how a recipe turned out or something you added to make it even better, feel free to comment below!