Home Page

>
Side Dish Recipes
> Mashed Potato Pancakes
Mashed Potato Pancakes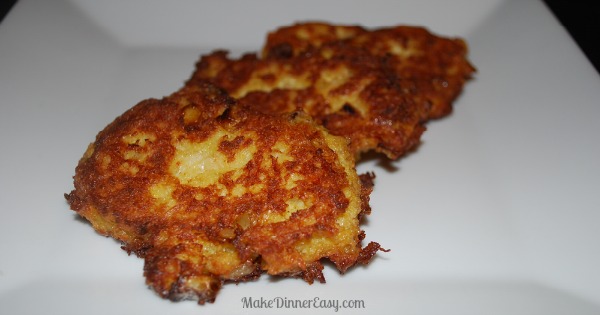 My kids love these potato pancakes. Actually, maybe they just like eating the sour cream or apple sauce that they put on top! When ever I make mashed potatoes, I usually try to make more than I will need so I can make this quick and delicious recipe the next night. I used to make potato pancakes by grating raw potatoes, but I really like the ease of preparation that this recipe offers. One key to success I've found is to make the pancakes fairly small, about 2 1/2 inches in diameter. A smaller pancake is easier to flip and cooks more evenly.
Mashed Potato Pancake Recipe

(Prep Time: 5-10 minutes. Cooking Time: 5-10 minutes)
4 cups leftover mashed potatoes
4 Tablespoons finely chopped onion
2 egg, beaten well
1/3 cup flour
1 teaspoon salt, or to taste
Butter/vegetable oil for browning
Applesauce / sour cream to top pancakes

Combine the first 5 ingredients in a medium sized mixing bowl. Heat about 2 Tablespoons each of butter and vegetable oil in a skillet. Place about 2 Tablespoons of the potato mixture into the skillet, flattening the potato mixture into a flat patty with the back of the spoon. Cook until golden brown on both sides. Transfer to a plate lined with paper towels. Blot top of each pancake to remove any excess oil.
Serve, topped with either applesauce or sour cream
Serves: 4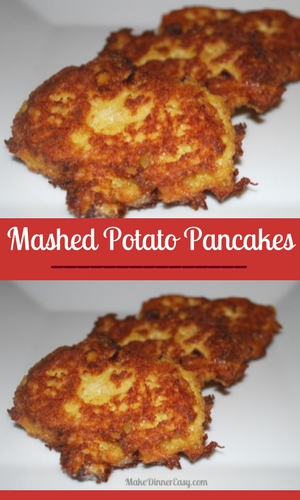 Click on any of the images below to see what I've pinned to Pinterest recently!.  If you like to see the recipes and cooking tips that I discover and pin, I'd love to have you follow me on Pinterest!

Visit Crystal@makedinnereasy's profile on Pinterest.
Thanks for stopping by! 
If you enjoy cooking or are looking for new recipes to try,
these are ways to see more yummy ideas: 
I also share all kinds of cooking tips and recipes on
Facebook . Twitter . Pinterest . and Instagram .
I'd love to have you follow along!

Each page on this site has a comment box, so if you want to share how a recipe turned out or something you added to make it even better, feel free to comment below!