Home Page

>
Appetizer Recipes
> Cucumber Cups Stuffed with Spicy Crab
Mango Bean Dip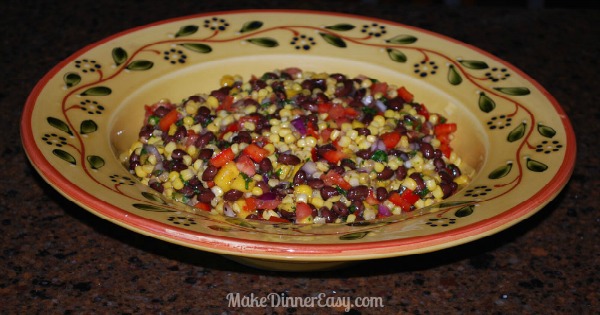 Thanks go to my neighbor Lisa for this great recipe for mango bean dip. It's a terrific appetizer that is tasty and the colors of the ingredients make it a pretty dish as well. 
2 mangos, diced
1 can black beans, drained and rinsed
½ bell pepper, chopped
¼ red onion, finely diced
1 (10 ounce) bag frozen corn, thawed
½ bunch, cilantro
1/2 - 1 packet Italian salad dressing mix, such as Good Seasons (I start with a half of a packet, stir and then add more if desired to taste. The sweetness and juiciness of the mango used can result in more or less seasoning needed.)

Mix all ingredients together. Serve with lime chips
Cook's notes:The hardest part of this recipe is cutting up the mango. This is how I do it: Purchase a mango that yields just slightly when gently squeezed. Mangos have a large oval sized pit inside. To dice up this fruit without the skin, I stand the mango on end and cut down, through the skin, on all four sides (cutting around the pit). Then take each of the four pieces of fruit, which still has the skin on and make horizontal and vertical cuts through the fruit but not through the skin. Then invert the sections slightly so that you can cut the diced fruit sections from the skin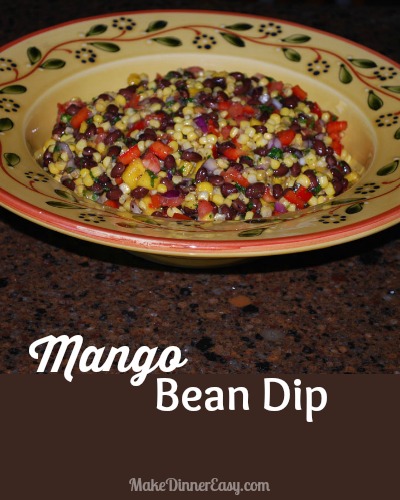 Click on any of the images below to see what I've pinned to Pinterest recently!.  If you like to see the recipes and cooking tips that I discover and pin, I'd love to have you follow me on Pinterest!

Visit Crystal@makedinnereasy's profile on Pinterest.
Thanks for stopping by! 
If you enjoy cooking or are looking for new recipes to try,
these are ways to see more yummy ideas: 
I also share all kinds of cooking tips and recipes on
Facebook . Twitter . Pinterest . and Instagram .
I'd love to have you follow along!

Each page on this site has a comment box, so if you want to share how a recipe turned out or something you added to make it even better, feel free to comment below!