Home Page

>
Appetizer Recipes
> Make Ahead Mashed Potatoes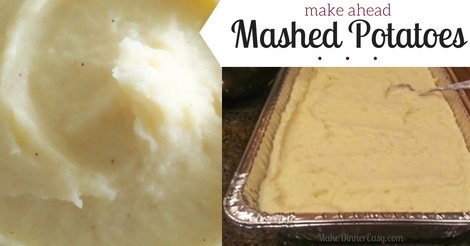 My family loves mashed potatoes but I don't always have time to make them or don't want to have to fuss with mashing and mixing right before dinner. This make ahead mashed potato recipe solves both problems. It can be made several days ahead and kept in the refrigerator.
If your family won't eat 5 pounds of potatoes you can place the recipe in 2 different casserole dishes and serve one later in the week. I have also frozen these, then thawed and baked as directed.
On the other hand, if you are expecting a crowd you can double or even triple the recipe.  The photo shown above is a triple recipe I made for a community dinner.  I happy to say that Costco thought enough of this recipe to feature it in one of their magazine issues.  Their test kitchen made it and deemed it good enough to include in their publication!

Make Ahead Mashed Potatoes
(Prep time: 40 minutes. Baking time: 30-45 minutes)
5 pounds russet, or baking, potatoes
½ cup (1 stick) salted butter
1 cup sour cream (reduced fat is okay to use)
8 ounces cream cheese, softened (reduced fat or fat free is okay to use)
1 teaspoon salt, or to taste

1. Peel and rinse potatoes. Cut potatoes into 2 inch pieces. Place potatoes in a large stock pot and cover with water. Bring water to a boil and continue to boil until potatoes are fork tender, approximately 18-20 minutes.
2. Drain potatoes and add remaining ingredients. Mash potatoes and mix well. To thoroughly mix ingredients you may want to use a hand or stand mixer. Taste and adjust amount of salt if necessary.
3. Transfer mashed potatoes to a shallow baking dish and cover with foil. Potatoes can be kept warm in the oven at this point, refrigerated or frozen.
Yield: 10-15 servings. I often make a full batch and divide the mashed potatoes between two serving dishes. Then I serve one now and serve the other in a few days.
Make ahead tip: These can be made several days ahead and kept in the refrigerator. 45 minutes before serving, place in an oven preheated to 350° and bake for 30-45 minutes or until hot.
Click on any of the images below to see what I've pinned to Pinterest recently!.  If you like to see the recipes and cooking tips that I discover and pin, I'd love to have you follow me on Pinterest!

Visit Crystal@makedinnereasy's profile on Pinterest.
Thanks for stopping by! 
If you enjoy cooking or are looking for new recipes to try,
these are ways to see more yummy ideas: 
I also share all kinds of cooking tips and recipes on
Facebook . Twitter . Pinterest . and Instagram .
I'd love to have you follow along!

Each page on this site has a comment box, so if you want to share how a recipe turned out or something you added to make it even better, feel free to comment below!