A Delicious Low Sugar Granola Discovery
and Giveaway!

Golden Girl Granola:  Great Taste and Low in Sugar!

I'm a label reader and never buy cereals loaded with sugar.  I was happy to discover a great granola that's low in sugar and tastes amazing! When I was offered some Golden Girl Granola to try, I first had to check out the label to see if it fit with the kind of cereal I would buy for my family.
Reading Labels:  Not All Granola is the Same
When buying cereal, I look for cereals that have less than 6 grams of sugar, more than 2 grams of fiber, 2 grams of protein if possible, no high fructose corn syrup, and ingredient labels that aren't a million miles long. 
I was happy to discover that Golden Girl qualified on all fronts.  Even better, there is a great back story for how it was developed and sold.  This is a story of a family with great community roots that just happened to develop a granola that was initially sold at farmer's markets and is now sold online and in many stores, mostly on the east coast for now.
| | |
| --- | --- |
| First it has to pass the label test | Then it has to pass the taste test! |
This granola comes in 7 different flavors
Wow, lots of choices and they even have some with no nuts and one that's gluten free!  Currently, their website shows the following flavors:

Forest Maple (with maple syrup and almonds)
Creative Cranberry (with cranberries, coconut and almonds)
Bluesberry (with blueberries, coconut, and almonds)
Chocolate Decadence (with chocolate, coconut, and almonds)
The Original (with coconut, honey, and almonds)
Home Sweet Honey (with honey and coconut)
Truly Tropical (with mango, cashews, and coconut - this is gluten free!)
They also have seasonal offerings and for this review I was able to try their Pumpkin Harvest.
A good story and lots of flavors is all well and good, but it does have to taste good too!  This company sent me a generous box of 4 different kinds of granola.  All of which my kids and husband happily helped sample and rate!

The Original
made with coconut, honey, and almonds

This was no plain jane.  There were very large flakes of coconut and it was loaded with almonds.

We liked that the granola was crunchy but that it wasn't too hard to chew.

Thumbs up.  Liked by all

Chocolate Decadence
made with chocolate pieces, coconut, and almonds

This was my husband's favorite.  As in, it's gone!  He said it was delicious and he could really taste the coconut.  He also liked that it was dense but not so hard that it hurt to chew.

Major Thumbs up!

Home Sweet Honey
made with honey and coconut

This was my personal favorite.  Having a nut allergy, there are a lot of kinds of granola that I can't eat.  So, I appreciated that they had several flavors that worked for me.  I loved the crunchy texture and that it stayed crunchy in milk.

Major Thumbs up!

Pumpkin Harvest
with pumpkin seeds, raisins, and spices

I really loved this, it tasted like an oatmeal raisin cookie with lots of nutmeg. 

I believe this is a seasonal offering and I don't see it currently on their site so it may be something to look for in the Fall.


Thumbs up in my book, especially if you like nutmeg!

Enter to Win a Box of 4 Bags of Granola!

From 3/9/15 - 3/13/15 you can enter below for a chance to win a variety box of granola from Golden Girl! For the entries that call for tweeting or commenting, you can do this once a day until the contest ends!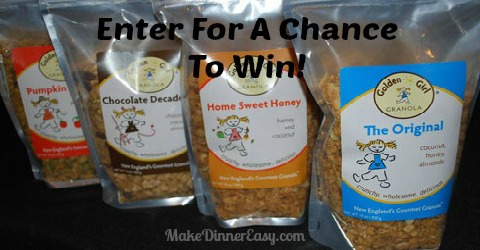 a Rafflecopter giveaway
If you'd like to keep up with this company you can follow Golden Girl on Twitter and Facebook and they have some yummy recipes on Pinterest too!

Click on any of the images below to see what I've pinned to Pinterest recently!.  If you like to see the recipes and cooking tips that I discover and pin, I'd love to have you follow me on Pinterest!

Visit Crystal@makedinnereasy's profile on Pinterest.
Thanks for stopping by! 
If you enjoy cooking or are looking for new recipes to try,
these are ways to see more yummy ideas: 
I also share all kinds of cooking tips and recipes on
Facebook . Twitter . Pinterest . and Instagram .
I'd love to have you follow along!

Each page on this site has a comment box, so if you want to share how a recipe turned out or something you added to make it even better, feel free to comment below!