Home Page

>
Soups and Stews
> Loaded Potato Soup
Loaded Potato Soup
(Prep Time: 20 minutes. Cooking Time: 30 -40 minutes)

6 medium to large potatoes
1/3 cup butter
2/3 cups flour
6 cups milk (skim or whole, whatever your family drinks)
1 teaspoon chicken bouillon (I prefer to use "Better Than Bouillon" chicken base. It's concentrated stock found in a small jar in the same aisle as chicken broth. Refrigerate after opening)
2 green onions
1 cup sour cream (non-fat or low fat is ok to use)
2 cups crisp bacon, cooked crisp and crumbled
2 cups shredded cheddar cheese

Peel and cube potatoes into bite size pieces. Place cubed potatoes in a 3 quart stockpot and cover with water. Cook potatoes until fork tender (about 15-20 minutes). Drain potatoes. Meanwhile, melt butter in a large pot over medium low heat. Add flour and stir until mixture is blended and bubbly. Gradually add milk to the butter-flour mixture, stirring constantly until thickened. Add bouillon, green onions and cooked potatoes, sour cream and cooked bacon. Just before serving, reduce heat and add cheese. Stir well and serve.

Serves 8-10 If you have leftovers and reheat this soup the next day, it may be too thick (the potatoes will do that!). Just add enough milk to thin and adjust the seasonings.

Make Ahead Tips: Potatoes can be cooked ahead of time, drained and stored in the refrigerator in a sealed container. Potatoes can also be peeled and cubed a few hours ahead, but they then must be covered with water to prevent them from turning brown.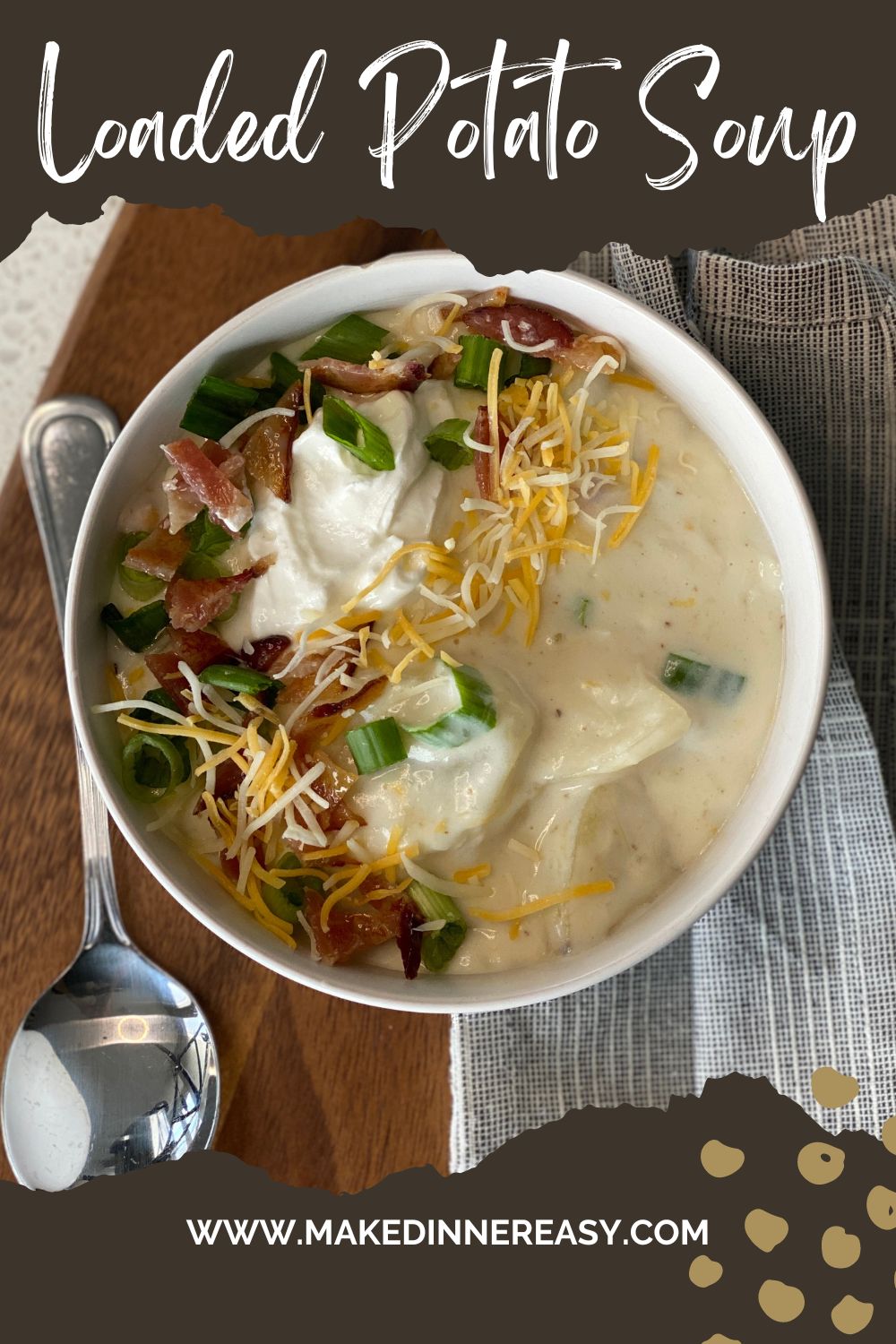 Click on any of the images below to see what I've pinned to Pinterest recently!.  If you like to see the recipes and cooking tips that I discover and pin, I'd love to have you follow me on Pinterest!

Visit Crystal@makedinnereasy's profile on Pinterest.
Thanks for stopping by! 
If you enjoy cooking or are looking for new recipes to try,
these are ways to see more yummy ideas: 
I also share all kinds of cooking tips and recipes on
Facebook . Twitter . Pinterest . and Instagram .
I'd love to have you follow along!

Each page on this site has a comment box, so if you want to share how a recipe turned out or something you added to make it even better, feel free to comment below!