Home Page

>
Side Dish Recipes
> Lemon Dilled Rice
Lemon Dilled Rice
Here is a quick and tasty side dish that would be a great compliment to any chicken or fish dinner. This recipe calls for a parboiled brown rice which can be cooked quickly, however you certainly can use other varieties to suit your tastes as well!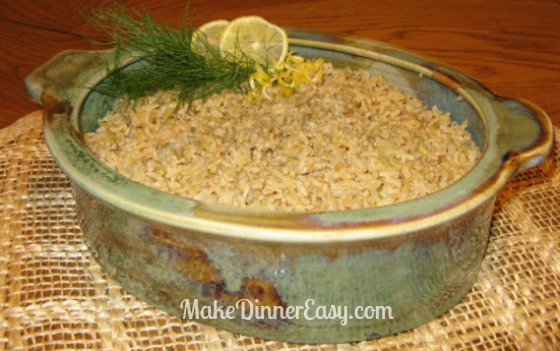 Lemon Dilled Rice Recipe

(Prep Time: 10 minutes. Cooking Time: 15 minutes)
1 Tablespoon olive oil
½ cup diced onion
1 ¾ cup chicken broth
2 cups minute brown rice
1 Tablespoon dill
1 teaspoon lemon zest

1. Heat olive oil in a medium sized saucepan. Add onion and sauté until tender
2. Add chicken broth and bring to a boil. Add uncooked minute brown rice and stir. Allow liquid to come to a boil again, cover and reduce heat to low. Cook for 5 minutes
3. Add dill and lemon zest. Stir and serve

Cook's note - how to zest a lemon: Take a dry towel and wipe off lemon (wet lemons don't zest well). Use a grater with small holes and remove the yellow portion of the lemon rind, turning the lemon frequently.
Serves 4-6
Note from Crystal - Many thanks to Courtney who submitted the photo featured for this recipe. She was the winner of a photo contest that was held by this site in 2012. Nice job Courtney! 

Options for Buying, Storing and Cooking Rice

You certainly can modify this recipe to use any type of rice that you prefer.  If you have additional questions about the difference between long grain and short grain rice or what type of rice to buy check out this guide on How to Cook Rice. 

If you want to make this dish on another day, add it to one of your Pinterest Boards!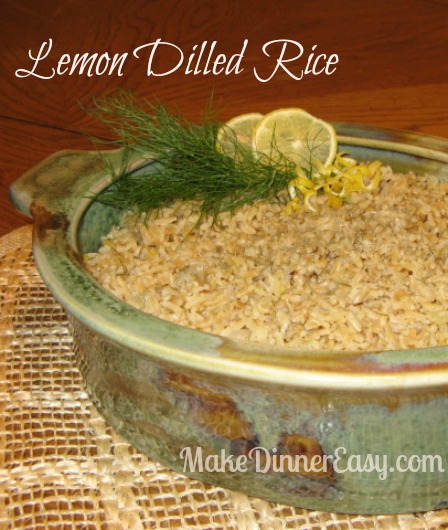 Click on any of the images below to see what I've pinned to Pinterest recently!.  If you like to see the recipes and cooking tips that I discover and pin, I'd love to have you follow me on Pinterest!

Visit Crystal@makedinnereasy's profile on Pinterest.
Thanks for stopping by! 
If you enjoy cooking or are looking for new recipes to try,
these are ways to see more yummy ideas: 
I also share all kinds of cooking tips and recipes on
Facebook . Twitter . Pinterest . and Instagram .
I'd love to have you follow along!

Each page on this site has a comment box, so if you want to share how a recipe turned out or something you added to make it even better, feel free to comment below!