Home Page

>
Dessert Recipes
> Lemon Bar Recipe
Lemon Bar Recipe
This lemon bar recipe is one of my most requested recipe from both my kids and others who taste them for the first time. The secret is in the lemon zest! I can't claim this as an original recipe. The credit goes to Phyllis, a neighbor of my mother-in-laws. 

2 (8 ounce) sticks, unsalted butter
2 cups of flour
1/2 cup confectioners sugar
4 beaten eggs
2 cups granulated sugar
4 Tablespoons flour 
1/4 cup fresh lemon juice
1 Tablespoon freshly grated lemon rind

Take eggs out of the refrigerator about 20 minutes before starting this recipe (they fluff up a bit more at room temperature). Pre-heat oven to 325'F. Mix the flour and confectioners sugar in a medium sized bowl and add the cold butter. Use 2 knives (or a food processor) to cut the butter into the flour. This will take a few minutes. The butter should resemble very small pellets(the size of a peppercorn or smaller). Pat the butter and flour mixture into a 13"x9"x2" glass baking pan. Bake for 18-20 minutes. Meanwhile, in another medium sized bowl, beat the eggs, mix in the granulated sugar, flour, lemon juice and lemon rind. Remove the crust from the oven when done and pour the lemon mixture evenly over the crust. Return the pan to the oven and bake an additional 20 minutes at 325'F. Remove from the oven and sprinkle with 1-2 teaspoons of confectioners sugar. When cool, cut into bars.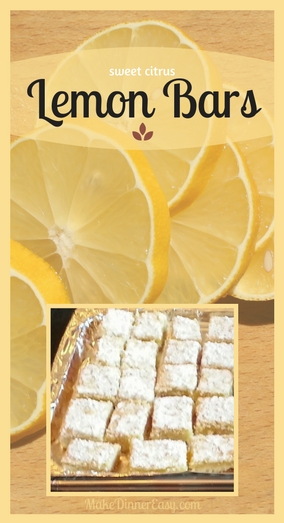 Click on any of the images below to see what I've pinned to Pinterest recently!.  If you like to see the recipes and cooking tips that I discover and pin, I'd love to have you follow me on Pinterest!

Visit Crystal@makedinnereasy's profile on Pinterest.
Thanks for stopping by! 
If you enjoy cooking or are looking for new recipes to try,
these are ways to see more yummy ideas: 
I also share all kinds of cooking tips and recipes on
Facebook . Twitter . Pinterest . and Instagram .
I'd love to have you follow along!

Each page on this site has a comment box, so if you want to share how a recipe turned out or something you added to make it even better, feel free to comment below!