Home Page

>
Appetizer Recipes
> Hot Wings Recipe
Baked Hot Wings

This hot wings recipe can be baked ahead of time and then put on the grill to get hot and crispy just before serving. Make ahead appetizers and chicken wings recipes in particular are very popular to prepare when watching a football game or for tailgate parties. Although this recipe is a little spicy, it's mild enough for the whole family to eat. If you like a little more heat, you can add more cayenne pepper to the basting sauce.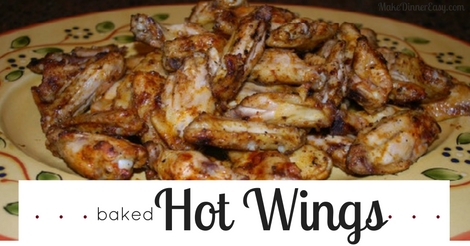 Baked Hot Wings Recipe
2.5 pounds frozen chicken wings (about 25 split wings)
1 teaspoon ground cayenne pepper
1 teaspoon ground black pepper
1 teaspoon paprika
1 teaspoon salt

Basting Sauce
1 Tablespoon butter
1/4 cup hot sauce (Frank's Louisiana Hot Sauce is good, but I've also used others)
1.5 teaspoons brown sugar
1/2 teaspoon red wine vinegar
1/8 teaspoon onion powder
additional cayenne pepper if you like really hot wings

Preheat the oven to 400'F. Line a rimmed cookie sheet with aluminum foil. Place the cayenne pepper, black pepper, paprika and salt into a large zip style bag. Add the frozen wings and toss the bag so that the wings are coated with the spice mixture. Pour the wings onto the foil lined pan. Bake for a total of 30 minutes, after 15 minutes turn the wings and continue baking for an additional 15 minutes.
At this point, the wings can be refrigerated or can be grilled and served immediately.
Combine the sauce ingredients in a small sauce pan and simmer for about 5 minutes (this can also be made ahead and reheated). About 20 minutes before you want to serve, place the baked wings on the grill over medium heat, baste frequently with the previously prepared sauce, and cook approximately 5-10 minutes per side or until the desired degree of crispness is achieved.
Serve with celery sticks and blue cheese salad dressing.
This recipe can be doubled, but the wings should be distributed over two cookie sheets when baking.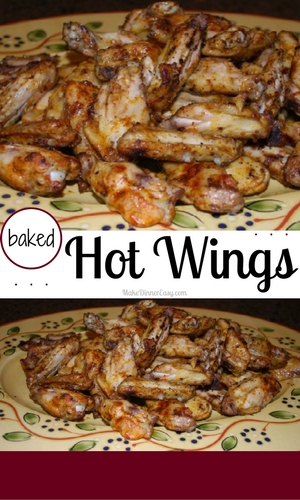 Click on any of the images below to see what I've pinned to Pinterest recently!.  If you like to see the recipes and cooking tips that I discover and pin, I'd love to have you follow me on Pinterest!

Visit Crystal@makedinnereasy's profile on Pinterest.
Thanks for stopping by! 
If you enjoy cooking or are looking for new recipes to try,
these are ways to see more yummy ideas: 
I also share all kinds of cooking tips and recipes on
Facebook . Twitter . Pinterest . and Instagram .
I'd love to have you follow along!

Each page on this site has a comment box, so if you want to share how a recipe turned out or something you added to make it even better, feel free to comment below!