Heavenly Chicken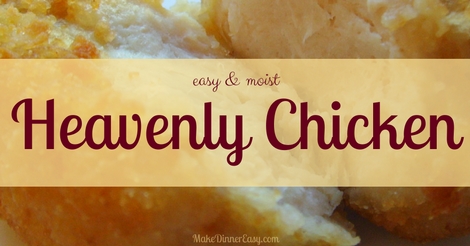 Ingredients:

4-6 boneless, skinless chicken breasts or chicken thighs
2 Tablespoons light olive oil
1 1/2 cups light sour cream or plain yogurt
1 teaspoon salt
1 teaspoon onion powder
1/2 teaspoon paprika
1 1/2 cups crushed ritz crackers (1 sleeve) or seasoned breadcrumbs
2 Tablespoons melted butter
Directions:

Preheat the oven to 350'F. Line a rimmed cookie sheet with foil and spread the olive oil over the foil.
In a medium bowl or zip style bag, stir together the sour cream, salt, onion powder, and paprika. Add the chicken to this mixture and turn the chicken so that all sides are fully coated.
Place the crushed crackers or breadcrumbs in a large bowl and dredge each piece of chicken in the crumbs so that all sides are coated.
Place the coated chicken on the prepared pan, drizzle the top of each piece with melted butter.
Bake at 350'F for about 45 minutes or until the chicken reaches an internal temperature of 165'F.

Recipe Background

Moist, heavenly chicken. That is what you get with this baked chicken breast recipe. The sour cream/yogurt and cracker crumb coating helps to keep the moisture in. I have a teenager who never wants to eat chicken for dinner, but this is one chicken dish he will eat! 
You have quite a few options when making this recipe.  You can use boneless chicken breasts, but I often use boneless chicken thighs as well.  I have used both yogurt as well as sour cream, and both work fine.  You can even use a combo of both if you want.
To crush the crackers. I usually put them in a large zip style bag, seal it, and then crush them with a rolling pin.  If you are going to use breadcrumbs, panko breadcrumbs will give you a better result if you have those in the house. 
I hope you enjoy as much as the people who have commented below.  If you make this, please come back and add your comments!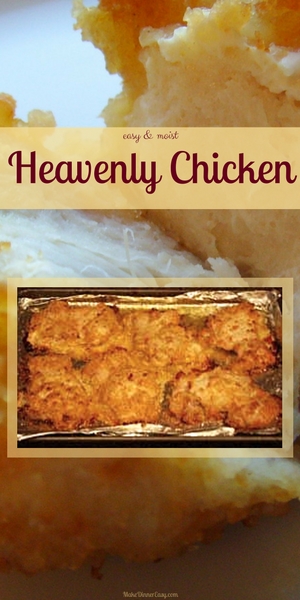 Click on any of the images below to see what I've pinned to Pinterest recently!.  If you like to see the recipes and cooking tips that I discover and pin, I'd love to have you follow me on Pinterest!

Visit Crystal@makedinnereasy's profile on Pinterest.
Thanks for stopping by! 
If you enjoy cooking or are looking for new recipes to try,
these are ways to see more yummy ideas: 
Each week (usually on Mondays) I send out an  e- Newsletter to over 11,000 people with a link to the free dinner menus and printable grocery list that I've created for the week.  You can Sign Up for the Newsletter (it's free) to be added to my next mailing.
I also share all kinds of cooking tips and recipes on
Facebook . Twitter . Pinterest , and Instagram .  
I'd love to have you follow along!

Each page on this site has a comment box, so if you want to share how a recipe turned out or something you added to make it even better, feel free to comment below!  

Crystal