Home Page

>
Appetizer Recipes
> Glazed Meatballs
Recipe Background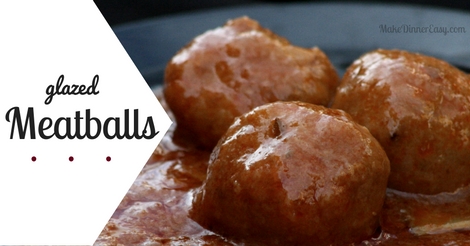 My kids insist that I make these glazed meatballs for almost every party and family function. The recipe is so easy, it's not a hard request to fulfill. I am a bit embarrassed when I'm asked how to make this dish because it's so simple. Since it's such a basic recipe, I wasn't even planning on including it in this web site. After receiving two requests for the recipe this week and a request to bring it to a party this weekend; I surrender, here's the recipe...
Glazed Meatballs
1 (14 ounce) bottle ketchup
1 (10 ounce) jar grape jelly
2 Tablespoons brown sugar
1/2 of a medium onion, finely diced
2 Tablespoons red wine vinegar
1 (32 ounce) bag of frozen meatballs

1. Combine the first five ingredients in a large sauce pan. Stir well to combine and cook over medium heat until it comes to a boil (it will spatter, that's why I recommend a deep pan).
2. Reduce heat to low and simmer for 1-2 hours, stirring occasionally.
3. Place frozen meatballs in a slow cooker. Pour sauce over meatballs and stir to coat all meatballs.
4. Cook on low for 5-6 hours or on high for 3-4 hours. If you can, move the meatballs around once or twice so the meatballs on the top are moved to the bottom.

Cook's Notes:I often make a quadruple batch of the sauce (I buy large bottles of ketchup and jelly at Costco) and freeze the sauce in several containers to save myself time before another party. If you do this, thaw the sauce before pouring it over the meatballs. Costco also sells 6 pound bags of meatballs, and I can usually fit about 5 pounds in my slow cooker at once.
This is a great recipe to make when you need a hot appetizer to be ready but don't have time to fuss before serving. I have made these glazed meatballs before every one of my kid's Baptism and First Communion Parties. While I'm at Church the meatballs are cooking and as soon as I come home I can serve a hot appetizer.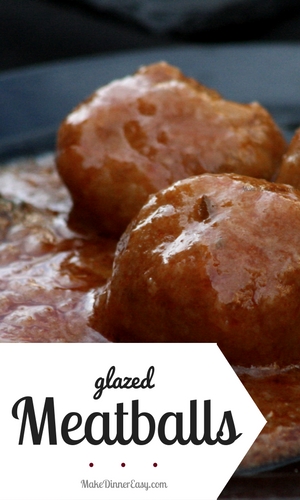 Click on any of the images below to see what I've pinned to Pinterest recently!.  If you like to see the recipes and cooking tips that I discover and pin, I'd love to have you follow me on Pinterest!

Visit Crystal@makedinnereasy's profile on Pinterest.
Thanks for stopping by! 
If you enjoy cooking or are looking for new recipes to try,
these are ways to see more yummy ideas: 
I also share all kinds of cooking tips and recipes on
Facebook . Twitter . Pinterest . and Instagram .
I'd love to have you follow along!

Each page on this site has a comment box, so if you want to share how a recipe turned out or something you added to make it even better, feel free to comment below!