Home Page

>
Dessert Recipes
> Gingerbread Cookie Recipe
Gingerbread Cookie Recipe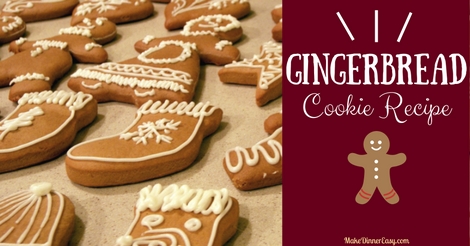 Although I originally started making this Gingerbread Cookie Recipe for Christmas, my kids liked it so much I make them now for Valentine's Day as well with heart shaped cookie cutters. 

2 sticks unsalted butter, softened
1 cup brown sugar
1 cup molasses
2 eggs
5 cups flour
2 teaspoons baking soda
1 teaspoon salt
2 Tablespoons powdered ginger
2 teaspoons ground cinnamon
2 teaspoons ground nutmeg
1 teaspoon ground allspice

In large mixing bowl or stand mixer, cream the butter and sugar. Add the molasses and egg, mixing well. In a separate bowl, combine the flour, baking soda and spices. Add the flour mixture to the butter mixture and beat until the mixtures are combined. Chill covered for 1 hour. Preheat the oven to 350'F. Either grease cookie sheets or line with parchment paper (I use parchment paper). On a lightly floured surface, roll the dough 1/2" - 1" thick. Use cookie cutters to cut out people shapes or any other shapes as desired. Transfer the cut-out pieces to cookie sheets, placing them about 1 inch apart. Place small candies in the face for eyes or a nose. Bake about 5-7 minutes (longer for crisper cookies). Can be frosted if desired when cool.
Makes about twenty 4 inch "people"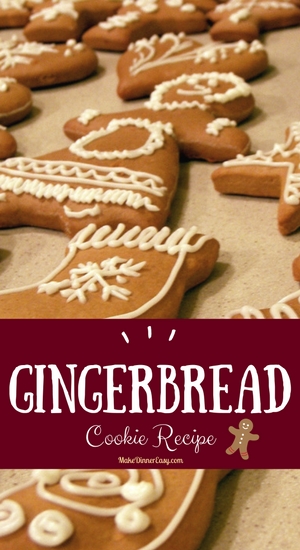 Click on any of the images below to see what I've pinned to Pinterest recently!.  If you like to see the recipes and cooking tips that I discover and pin, I'd love to have you follow me on Pinterest!

Visit Crystal@makedinnereasy's profile on Pinterest.
Thanks for stopping by! 
If you enjoy cooking or are looking for new recipes to try,
these are ways to see more yummy ideas: 
I also share all kinds of cooking tips and recipes on
Facebook . Twitter . Pinterest . and Instagram .
I'd love to have you follow along!

Each page on this site has a comment box, so if you want to share how a recipe turned out or something you added to make it even better, feel free to comment below!