Home Page

>
Appetizer Recipes
> Fresh Taco Dip
Fresh Taco Dip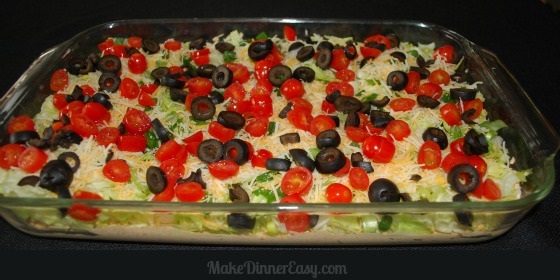 This is my neighbor Kathy's recipe for fresh taco dip. There are a lot of recipes for layered taco dips out there, but this one is my favorite. I'm usually not a big fan of iceberg lettuce, but it's crunchy texture makes it the best type of lettuce to use for this recipe.  This is one of those recipes that I had to have after she made it for a party we were at.  I was the obnoxious guest who stood by this dip until I was stuffed.  I like it because it has a lighter and fresher feel, with all the veggies, than a lot of other taco dips that I've tried!

Fresh Taco Dip Recipe

1 (8 ounce) package cream cheese, softened
1 pint, sour cream
1 (1.5 ounce) package taco seasoning mix (mild or spicy, your choice)
3/4 head, iceburg lettuce, chopped
1 1/2 cups cherry tomatoes, quartered
4 green onions, chopped
1 cup, sliced black olives
2 cups, shredded cheddar cheese

1. Mix cream cheese, sour cream and taco seasoning mix. Spread this mixture on the bottom of a 12"x12" platter and chill for 3 hours.
2. Chop veggies and drain well, blotting on a paper towel if necessary.
3. Layer the veggies on top of the cream cheese mixture: first the lettuce, then the tomatoes, then the onions, then the olives, then the cheese.
4. Serve with tortilla chips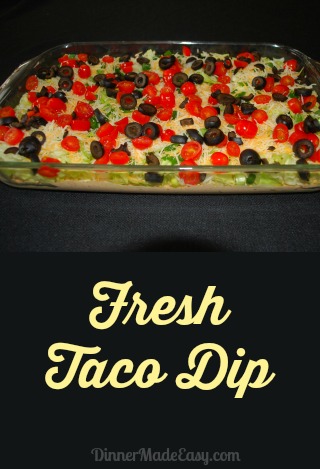 Click on any of the images below to see what I've pinned to Pinterest recently!.  If you like to see the recipes and cooking tips that I discover and pin, I'd love to have you follow me on Pinterest!

Visit Crystal@makedinnereasy's profile on Pinterest.
Thanks for stopping by! 
If you enjoy cooking or are looking for new recipes to try,
these are ways to see more yummy ideas: 
I also share all kinds of cooking tips and recipes on
Facebook . Twitter . Pinterest . and Instagram .
I'd love to have you follow along!

Each page on this site has a comment box, so if you want to share how a recipe turned out or something you added to make it even better, feel free to comment below!