Home Page

>
Salad Recipes
> Favorite Chopped Salad
Favorite Chopped Salad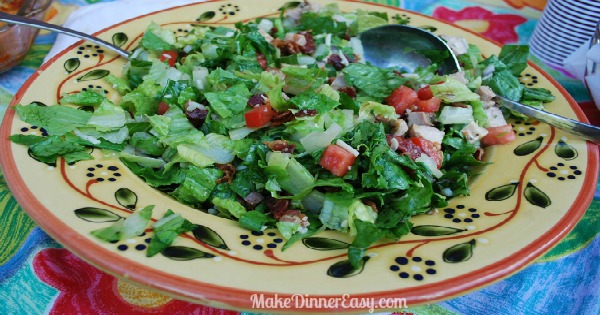 This is my all time favorite chopped salad recipe. I've made this for countless parties and it is always well received. It does take some time to prepare but I often prep the ingredients the night before or earlier in the day. When I'm making a big batch of this for a party, I place the lettuce in a jumbo (2.5 gallon) zip style bag. Then I keep the other salad ingredients in separate zip style bags. Just before serving, add all the salad ingredients to the lettuce and add the desired amount of salad dressing. Zip the bag shut and shake. This is a no-mess method for tossing a salad and is a real time saver before a party.
Favorite Chopped Salad Recipe

(prep time: 30-40 minutes)
Salad:
1-2 heads of Romaine (or enough for your family)
2 cups chopped cooked chicken (rotisserie chicken is fine, or cook chicken yourself)
¼ cup chopped red onion
½ cup blue cheese crumbles
2 plum tomatoes, chopped
1 cup cooked and crumbled bacon
1 cup cooked ditalini pasta (a small tubular pasta – you can find it in a box in the pasta aisle)

Salad Dressing:
1/3 cup Dijon style mustard
1/3 cup rice wine vinegar
1/3 cup red wine vinegar
1 garlic clove, minced
2-3 Tablespoons, honey (depending on your taste)
1 Tablespoon dried oregano or basil
2 cups light extra virgin olive oil (make sure it is fresh –oils can get rancid quickly and will ruin the taste of your salad)
½ teaspoon freshly ground black pepper
½ teaspoon salt or to taste

Chop Romaine with a knife (for this recipe it really does taste better if the romaine is chopped with a knife in small thin strips). Combine salad ingredients. These can be prepped earlier in the day. If you do this, place the tomatoes and other salad ingredients in separate bowls so the lettuce doesn't get soggy

Combine salad dressing ingredients. This can be made in advance. I store mine in glass jar that I can shake to mix.

When ready to serve, add desired amount of dressing to salad and toss.

Note: You will have extra salad dressing left over. It's delicious and keeps well. Use on side salads during the week.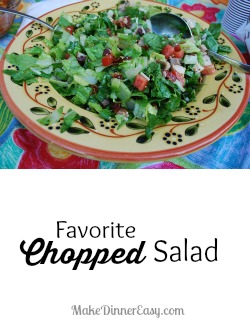 Click on any of the images below to see what I've pinned to Pinterest recently!.  If you like to see the recipes and cooking tips that I discover and pin, I'd love to have you follow me on Pinterest!

Visit Crystal@makedinnereasy's profile on Pinterest.
Thanks for stopping by! 
If you enjoy cooking or are looking for new recipes to try,
these are ways to see more yummy ideas: 
I also share all kinds of cooking tips and recipes on
Facebook . Twitter . Pinterest . and Instagram .
I'd love to have you follow along!

Each page on this site has a comment box, so if you want to share how a recipe turned out or something you added to make it even better, feel free to comment below!