Home Page

>
Salad Recipes
> Everyday Side Salad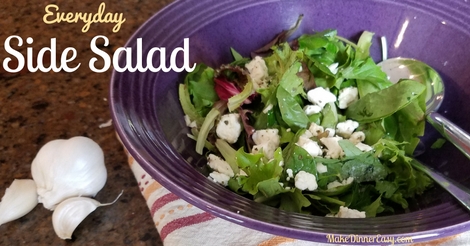 Recipe Background
If you like goat cheese, you will love this recipe for everyday side salad. This is my personal favorite side salad, and I make it often. If you've been to my house, most likely you have had it as well. It not only makes a super easy dinner side salad, but I often make a plate of it for lunch. The greens you use with this salad will make a difference in the taste. I prefer the organic field greens with herbs that come pre-washed and packaged in a plastic container in the produce section of the grocery store. As with any salad, make sure your olive oil is fresh. I recommend buying the smallest bottle of olive oil to help ensure your oil is fresh and not rancid.
Everyday Side Salad
Prep Time: 5 minutes
½ (5 ounce) container fresh herb salad greens or 5-6 cups field greens (I buy O Organics or Earthbound Farms packaged Organic Herb Salad)
1-2 garlic cloves minced
2 ounces (1/2 of a 4 ounce container) Provencal goat cheese crumbles (I buy Saladena Brand with thyme, basil and red pepper)
2 Tablespoons light olive oil, or more if desired
1/8 teaspoon salt, or to taste
Combine all ingredients in a mixing bowl. Toss and serve
Serves 3-4 as a side salad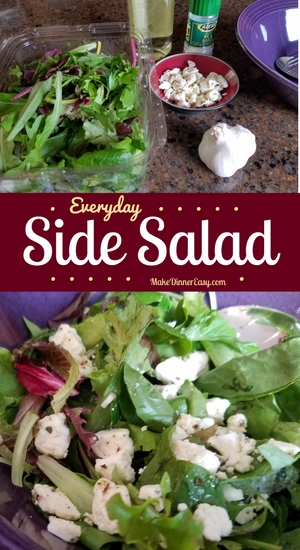 Click on any of the images below to see what I've pinned to Pinterest recently!.  If you like to see the recipes and cooking tips that I discover and pin, I'd love to have you follow me on Pinterest!

Visit Crystal@makedinnereasy's profile on Pinterest.
Thanks for stopping by! 
If you enjoy cooking or are looking for new recipes to try,
these are ways to see more yummy ideas: 
I also share all kinds of cooking tips and recipes on
Facebook . Twitter . Pinterest . and Instagram .
I'd love to have you follow along!

Each page on this site has a comment box, so if you want to share how a recipe turned out or something you added to make it even better, feel free to comment below!