Home Page

>
Dessert Recipes
> Cut Out Sugar Cookies Recipe
Cut Out Sugar Cookies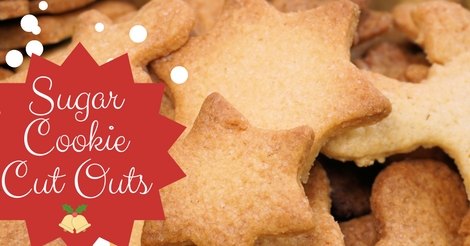 My sister-in-law Suzanne, who is a marvelous baker, graciously shared her flavorful Cut Out Sugar Cookie Recipe. Although she works full-time, she makes an amazing assortment of Christmas Cookies each year including this easy sugar cookie. To make it even easier she suggests decorating them before baking if you wish. To see more of Suzanne's cookie recipes, check out Bourbon Current Cookies and Chocolate Orange Cookies.
Recipe for Cut-Out Sugar Cookies

Makes approximately 6 dozen
1 cup unsalted butter- room temp
1 ¼ cups sugar
3 oz. cream cheese
½ t salt
1 t almond extract
1 t vanilla extract
1 egg yolk
2 cups flour

Cream butter, cream cheese and sugar until fluffy. Add egg yolk, beat. Add salt and extracts, beat. Add flour, mix until blended. Refrigerate at least two hours or overnight.
Pre-heat oven to 375 degrees. On a floured surface, with a floured roller, roll out dough between 1/8" and 1/4" thick. If dough is too sticky just gently roll again with more flour. Cut into shapes with a cookie cutter. Place on an oil sprayed cookie sheet. If you like-decorate with non-melting sprinkles and/or dragees (the little silver or gold balls).
Bake 7-10 minutes until light golden brown. Remove from cookie sheet onto a rack. Decorate, if/as desired.
Notes: I like to decorate the cookies before they bake, makes the job easier for me. If you like fancier cookies, make some frosting and decorate afterward.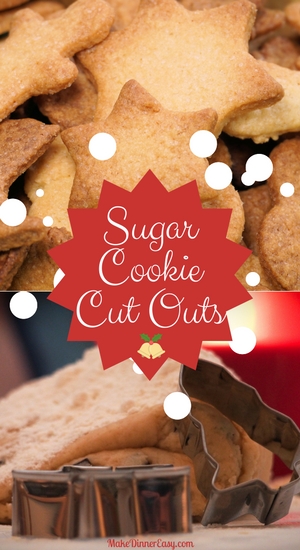 Click on any of the images below to see what I've pinned to Pinterest recently!.  If you like to see the recipes and cooking tips that I discover and pin, I'd love to have you follow me on Pinterest!

Visit Crystal@makedinnereasy's profile on Pinterest.
Thanks for stopping by! 
If you enjoy cooking or are looking for new recipes to try,
these are ways to see more yummy ideas: 
I also share all kinds of cooking tips and recipes on
Facebook . Twitter . Pinterest . and Instagram .
I'd love to have you follow along!

Each page on this site has a comment box, so if you want to share how a recipe turned out or something you added to make it even better, feel free to comment below!