Home Page

>
Appetizer Recipes
> Cucumber Cups Stuffed with Spicy Crab
Cucumber Cups Stuffed With Spicy Crab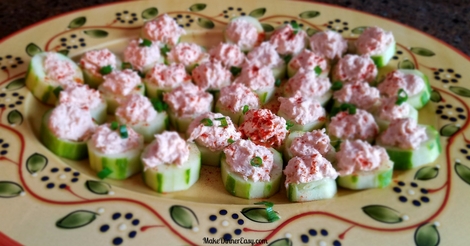 I'm always looking for a new appetizer recipe, preferably one that I can make-ahead of time. I came up with this concoction during the holidays and it was such a hit. What's even better is this is a no-bake recipe that combines a popular sushi filling with cucumber cups you can cut up yourself. These are finger friendly, no stencils required!

Cucumber Cups Stuffed With Spicy Crab Recipe

Ingredients:
3 large English cucumbers (the kind that are wrapped in plastic)
12 ounces crab meat, well drained
1/4 cup sour cream (you can use light, but I wouldn't recommend non-fat)
8 ounces (1 block) of cream cheese, softened
3 Tablespoons Sriracha sauce or to taste
1/4 teaspoon freshly ground black pepper
1-2 green onions for garnish
Paprika for garnish

Directions:

Remove plastic from cucumbers and wash well. Using a vegetable peeler, remove most of the green skin on the cucumbers.  Cut the cucumbers in about 1"-1.5" slices.

Use a small melon baller to remove most of the pulp from each cucumber cup. Be careful not to go all the way down to the bottom. Leave a little bit of cucumber on the bottom so the filling doesn't leak out.

Blot the cucumbers cubs dry with a paper towel and arrange on a serving platter.

Mix together the crab, sour cream, cream cheese, sriracha and black pepper.

Fill each cup with the cream cheese mixture.
Top with diced green onions and sprinkle with paprika.
These can be make 2-4 hours in advance and refrigerated before serving

Yield - about 36 cups, depending on the size of your cucumbers

| | |
| --- | --- |
| Removing the skin of the cucumber. | Using a melon scoop to make the cup. |
| Ready to assemble! | Enjoy! |
Preparation Tips:
You can  use fresh, frozen, canned, or foil-packaged crab.  Just make sure that whatever crab you use has been flaked and drained well. I usually used canned crab but recently have had very good luck using refrigerated crab that comes in a foil pouch. I usually find this in the Seafood Department at my local grocery store and I find it easy to use with almost no extra moisture, so draining isn't required.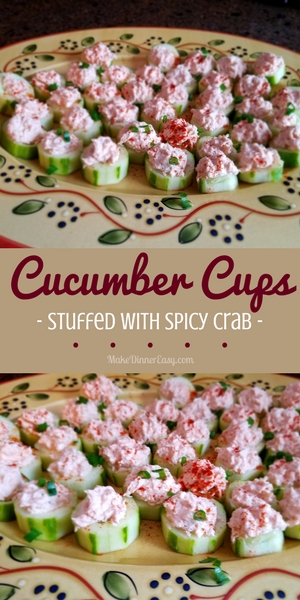 Click on any of the images below to see what I've pinned to Pinterest recently!.  If you like to see the recipes and cooking tips that I discover and pin, I'd love to have you follow me on Pinterest!

Visit Crystal@makedinnereasy's profile on Pinterest.
Thanks for stopping by! 
If you enjoy cooking or are looking for new recipes to try,
these are ways to see more yummy ideas: 
I also share all kinds of cooking tips and recipes on
Facebook . Twitter . Pinterest . and Instagram .
I'd love to have you follow along!

Each page on this site has a comment box, so if you want to share how a recipe turned out or something you added to make it even better, feel free to comment below!