Home Page

>
Salad Recipes
> Cobb Chopped Salad
Cobb Chopped Salad

I love all in one meals like this Cobb Chopped Salad recipe. You can make the dressing and prep the ingredients earlier in the day. Then all you need to do is toss it together when you're ready to eat, and you have dinner!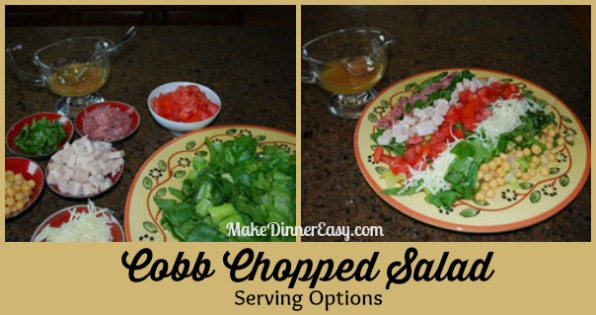 Cobb Chopped Salad Recipe

Salad:
1 head romaine lettuce, chopped into narrow (1/8") strips
2 Tablespoons fresh basil, chopped
2 cups shredded mozzarella cheese
1 cup canned garbanzo beans, drained
3 -4 ripe tomatoes, diced
2 Tablespoons, green onions
2 cups diced turkey meat (you can dice a few thick slices from the deli)
½ cup salami, cut into thin strips

Dressing:
1-1/3 cups light extra virgin olive oil
¼ cup red wine vinegar
1 garlic clove, minced
2 Tablespoons Dijon style mustard
½ teaspoon sugar
1 ½ teaspoons, dried oregano
1 teaspoon fresh parsley
¼ teaspoon each salt and pepper
3 Tablespoons grated parmesan cheese

Mix Salad ingredients together. Make dressing and mix well. Just before serving add enough dressing to taste to the salad ingredients.
(serves 4 as a dinner salad)
Click on any of the images below to see what I've pinned to Pinterest recently!.  If you like to see the recipes and cooking tips that I discover and pin, I'd love to have you follow me on Pinterest!

Visit Crystal@makedinnereasy's profile on Pinterest.
Thanks for stopping by! 
If you enjoy cooking or are looking for new recipes to try,
these are ways to see more yummy ideas: 
I also share all kinds of cooking tips and recipes on
Facebook . Twitter . Pinterest . and Instagram .
I'd love to have you follow along!

Each page on this site has a comment box, so if you want to share how a recipe turned out or something you added to make it even better, feel free to comment below!