Home Page

>
Appetizer Recipes
> Citrus Spinach Salad
Citrus Spinach Salad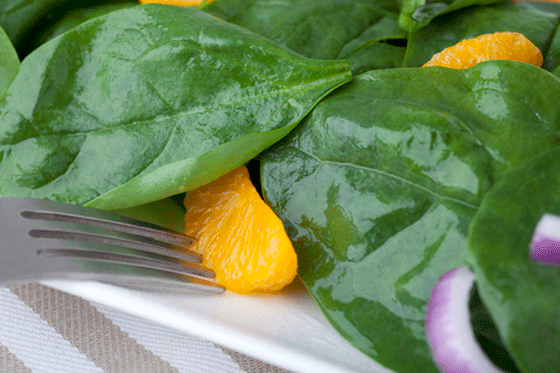 This recipe for Citrus Spinach Salad is easy to make and refreshing to eat. To make it even easier, you can use a bag of pre-washed baby spinach leaves and the dressing can be made in advance. If you do make and refrigerate the dressing in advance, remember that olive oil solidifies when it is cold. Just take the dressing out of the refrigerator about 30 minutes before you plan to use it, shake well and it should be fine. I recently revised the dressing recipe to make it a little lighter and less intense.
Citrus Spinach Salad Recipe

(Prep Time: 10 minutes)
5-6 cups baby spinach leaves (about 1/2 of a 9 ounce bag)
1 cup cherry tomatoes
1/8 red onion, thinly sliced
1 (11 ounce) can mandarin oranges
1 (2.25 can) sliced black olives

Dressing (Revised):
1/4 cup extra light virgin olive oil
4 teaspoons balsamic vinegar (or more if desired)
1/4 teaspoon Dijon mustard
1 teaspoon granulated sugar
1/8 teaspoon each, salt and black pepper

Combine dressing ingredients and set aside. Combine salad ingredients in a large bowl. Pour desired amount of dressing over salad and serve immediately. You probably will have a little dressing left over, depending on how much dressing you like in your salad

Serves 4-5
Click on any of the images below to see what I've pinned to Pinterest recently!.  If you like to see the recipes and cooking tips that I discover and pin, I'd love to have you follow me on Pinterest!

Visit Crystal@makedinnereasy's profile on Pinterest.
Thanks for stopping by! 
If you enjoy cooking or are looking for new recipes to try,
these are ways to see more yummy ideas: 
I also share all kinds of cooking tips and recipes on
Facebook . Twitter . Pinterest . and Instagram .
I'd love to have you follow along!

Each page on this site has a comment box, so if you want to share how a recipe turned out or something you added to make it even better, feel free to comment below!