Home Page

>
Cooking 101
> Christmas Family Traditions
Christmas Family Traditions
and Homemade Christmas Gift Ideas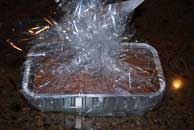 Are you looking to start new Christmas family traditions? I have teamed up with two of my favorite Mom Bloggers to bring you a free e-book brimming with lots of decorating, gift wrapping, and cooking suggestions. We also share our own family traditions and give you a bonus worksheet so you can come up with ideas of new traditions you may want to start.
Whether you are looking for ideas for new traditions to start with your family, some snazzy homemade centerpiece ideas, or some homemade Christmas gift ideas, you will find lots of inspiring photos and recipes in this 17 page e-book.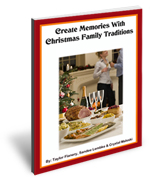 Favorite Christmas Recipes
We have included lots of our favorite Christmas Recipes in this book, many of which are great homemade Christmas gift ideas.
I often make and give Christmas food gifts, especially to my kid's teachers and coaches. They're easy to make, inexpensive, and a personal way to give a special gift. With four kids, I could spend a small fortune buying mugs or gift cards for teacher gifts. Instead I like to spend a small amount of time and make a big batch of one of the recipes in this book.
I find that clear plastic cello wrapping paper can make any food gift look snazzy, such as the picture of the quick bread at the top of this page. I often punch a small hole in our annual family picture Christmas card, insert a ribbon in the hole and wrap that around the top of the gift instead of a gift tag. If you are interested in making Christmas food gifts, I've included some of the recipes I make each year. Specifically, you will find recipes for:

Christmas cookies
Cinnamon Sugared Pecans
Double Peanut Brittle
Instant Hot Cocoa Mix
Homemade Hot Fudge Sauce
Apple Cinnamon Nut Bread



To download and print this e-book, just CLICK HERE.
This really is free, my gift to you. If you would care to give me a gift, I'd love if you could share one of your family Christmas traditions, or share a comment about this e-book in the comment section below. Thanks!
Click on any of the images below to see what I've pinned to Pinterest recently!.  If you like to see the recipes and cooking tips that I discover and pin, I'd love to have you follow me on Pinterest!

Visit Crystal@makedinnereasy's profile on Pinterest.
Thanks for stopping by! 
If you enjoy cooking or are looking for new recipes to try,
these are ways to see more yummy ideas: 
I also share all kinds of cooking tips and recipes on
Facebook . Twitter . Pinterest . and Instagram .
I'd love to have you follow along!

Each page on this site has a comment box, so if you want to share how a recipe turned out or something you added to make it even better, feel free to comment below!