Home Page

>
Appetizer Recipes
> Bruschetta
Recipe Background
This easy and delicious recipe for bruschetta has been provided by
a terrific party planning site, www.passion-for-parties.com
If you're looking for ideas for party themes, invitations, favors, or games, check this site out! This recipe is best if made the day before you plan to serve it so that all of the flavors can mingle.
Bruschetta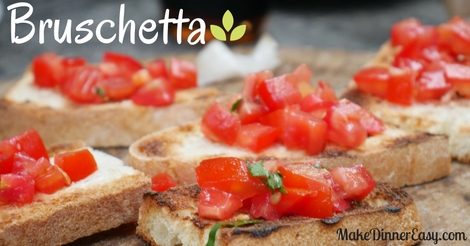 Ingredients:
6 firm roma tomatoes, seeded and diced
2 teaspoons dried basil
4 teaspoons minced garlic
1/2 teaspoon kosher salt
4 teaspoons olive oil
2 teaspoons balsamic vinegar
Crostini or ciabatta bread slices
Olive oil
Shredded Parmesan cheese
Parsley flakes


Directions:
Combine tomatoes, basil, garlic, kosher salt, 4 teaspoons olive oil and balsamic vinegar in a serving bowl. Refrigerate until ready to serve.
Preheat the oven to 450 degrees. 
Place bread slices on a baking sheet. Brush lightly with olive oil, then sprinkle with Parmesan cheese and parsley. Bake for 5 minutes, or until cheese is melted and bread is crisp. Let cool. Serve the bruschetta in a bowl beside the bread slices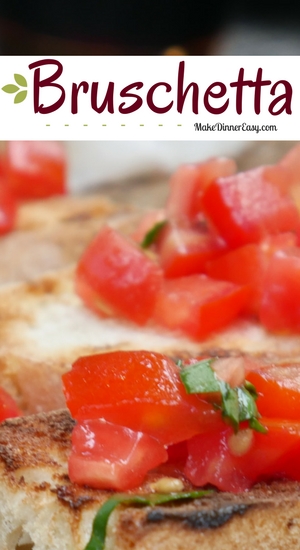 Click on any of the images below to see what I've pinned to Pinterest recently!.  If you like to see the recipes and cooking tips that I discover and pin, I'd love to have you follow me on Pinterest!

Visit Crystal@makedinnereasy's profile on Pinterest.
Thanks for stopping by! 
If you enjoy cooking or are looking for new recipes to try,
these are ways to see more yummy ideas: 
I also share all kinds of cooking tips and recipes on
Facebook . Twitter . Pinterest . and Instagram .
I'd love to have you follow along!

Each page on this site has a comment box, so if you want to share how a recipe turned out or something you added to make it even better, feel free to comment below!