Home Page

>
Soups and Stews
> Broccoli Cheese Soup
Broccoli Cheese Soup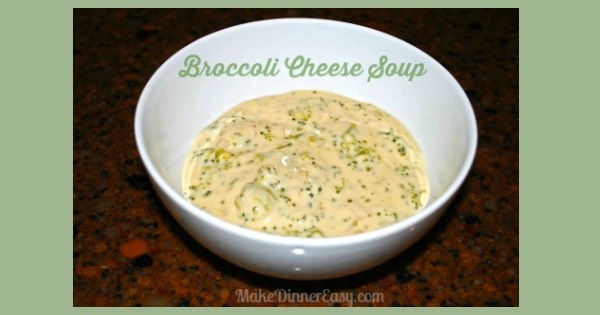 This is a quick broccoli cheese soup recipe which is not as rich as it tastes. I've substituted light olive oil for some of the butter usually used in this type of this recipe and used chicken broth for most of the base with just enough fat free half and half to provide the creamy texture. I like to add the broccoli at the very end of the cooking time to make sure it stays crisp and flavorful. You can make this soup in about 20 minutes, gotta love easy soup recipes!
Broccoli Cheese Soup
Cook Time: Start to Finish, about 20 minutes
2 Tablespoon light olive oil
4 Tablespoon butter
1 medium onion, diced
1/2 cup flour
4 cups chicken stock or broth
1 cup fat free half and half (or a bit more if you like it a little thinner)
1 1/4 teaspoon salt
4 cups broccoli florets, chopped medium-fine
2 cups shredded cheddar cheese

Place the olive oil and butter in a large stock pot, and heat over medium-low until the butter is just melted. Add the onions and saute about 1 minute. Stir in the flour. Add the chicken stock, fat free half and half, and salt. Stir until thickened, about 6-7 minutes. Turn off the burner and add the broccoli and shredded cheese. Stir until cheese is melted. If the broccoli was chopped finely enough you won't need to cook it anymore. If you have large pieces of broccoli you may need to cook if a few more minutes over low heat. Don't use high heat or you risk scorching the soup and making the cheese stringy!
Makes about 8 cups, serves 6-8 and leftovers are great for lunch.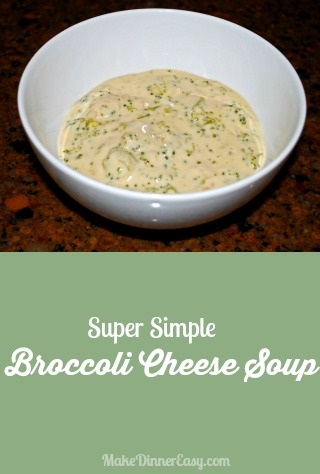 Click on any of the images below to see what I've pinned to Pinterest recently!.  If you like to see the recipes and cooking tips that I discover and pin, I'd love to have you follow me on Pinterest!

Visit Crystal@makedinnereasy's profile on Pinterest.
Thanks for stopping by! 
If you enjoy cooking or are looking for new recipes to try,
these are ways to see more yummy ideas: 
I also share all kinds of cooking tips and recipes on
Facebook . Twitter . Pinterest . and Instagram .
I'd love to have you follow along!

Each page on this site has a comment box, so if you want to share how a recipe turned out or something you added to make it even better, feel free to comment below!