Book Giveaway for Food Lovers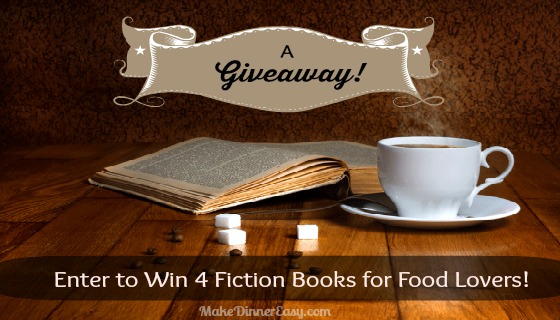 This giveaway has ended.  Congrats to Sara K from Minnesota.   I just shipped out the following books to her: 
Tomorrow There Will Be Apricots, The Storyteller, The Baker's Daughter and The School of Essential Ingredients!

Do you like to read about food and cooking just as much (or more!) than you like to cook or even eat?  I've got just the giveaway for you! 
As much as I like to read, I don't enjoy the process of trying to find a good book, or wasting my time on a book that's not so great.   Good Book Fairy, solves this problem for me.  She offers personal reviews of books with the mantra "Because Life is too short to read bad books"  Works for me!  I was especially tickled to see she has a section on books about food or cooking as a central theme.
Who is the Good Book Fairy
and What Does She Do?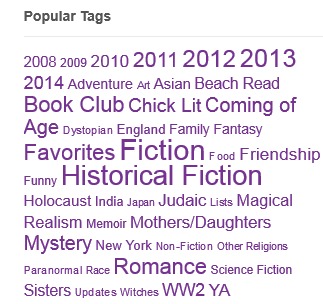 She is someone who always has her nose in a book.  She offers candid reviews of books she reads and it's a great source if you are in a book club looking for a new title, or just need something new to read yourself.  If you looking for a particular kind of book you will see an area on the right side of her site called "popular tags".  I've included a photo of what that section looks like on her site.  After reviewing a book she tags the review based on the kind of book it is.  So if you're looking for a Beach Read you can click on that or Adventure you can click on that.  If you're looking for a newer book, click on 2014 to see what she has recently reviewed. 
No surprise here, my eyes were drawn to the food section.
She currently has seven reviews on food and cooking related books including:
Tomorrow There Will Be Apricots
The School of Essential Ingredients
A Good Excuse For a Giveaway!

When I saw all of the terrific food related books, I thought my readers might get a kick out of reading them too.

f you're familiar with my site, you'll know that occasionally I offer giveaways for products that I think viewers would like, and it sure is nice to try and win something.

There are seven Good Book Fairy Food Book Reviews.  One lucky winner will receive four of these books (Good Book Fairy and I will make a selection based on availability and interest).  For a chance at winning, just enter below. This giveaway will end at midnight on 4/10/14.  There are a number of ways to enter and you are allowed to use the tweet entry daily for more chances to win.  I'm not being compensated for this giveaway, I actually like this site so much I'm paying the costs myself to send a lucky winner four paperback book selections.
a Rafflecopter giveaway
Like this page?  Click on the +1 button below!

Click on any of the images below to see what I've pinned to Pinterest recently!.  If you like to see the recipes and cooking tips that I discover and pin, I'd love to have you follow me on Pinterest!

Visit Crystal@makedinnereasy's profile on Pinterest.
Thanks for stopping by! 
If you enjoy cooking or are looking for new recipes to try,
these are ways to see more yummy ideas: 
I also share all kinds of cooking tips and recipes on
Facebook . Twitter . Pinterest . and Instagram .
I'd love to have you follow along!

Each page on this site has a comment box, so if you want to share how a recipe turned out or something you added to make it even better, feel free to comment below!