Home Page

>
Soups and Stews
> Black Bean Soup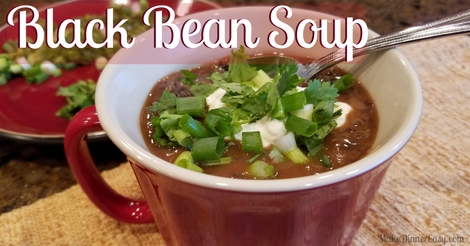 Recipe Background
If you're looking for a super quick recipe, this black bean soup recipe won't be what you're looking for. While this recipe doesn't take much work, it does require planning as the beans have to be soaked. It also requires time for the beans to cook. I do like to make this on a cold, rainy day when I am going to be home and want something simmering on the stove all day. I also feel good serving my family this healthy, fiber filled dish. I think they like eating the soup because I put out fun toppings for them to place on top!
Black Bean Soup
Soaking Time: 4 hours Prep Time: 10 minutes Cooking Time: 3 hours

1 pound black beans
1 medium onion, diced
4 garlic cloves, minced
1 (32 ounce) box of chicken broth
2 teaspoons salt
1 (15 ounce) can tomato sauce
2 Tablespoons olive oil
1 medium onion, diced
2 garlic cloves, minced
2 teaspoons cumin
1/4 teaspoon cayenne pepper or to taste
Assorted toppings such as green onions, sour cream and cilantro

1. Soak beans, covered in water, for at least 4 hours or overnight. Drain off water.
2. In a large stock pot, place beans, 1 diced onion, 4 minced garlic cloves, chicken broth and salt. Bring to a boil and reduce heat to a simmer. Cook covered for 1.5 hours, stirring occasionally.
3. Cook cooked beans and then place in a blender with tomato sauce.
4. Using the same stock pot that was used to cook the beans, heat olive oil and sauté the remaining onion and garlic. Add blended bean and tomato mixture. Add cumin and cayenne and taste. Adjust seasoning to desired level.
5. Serve in a bowl topped with sour cream, green onions, and cilantro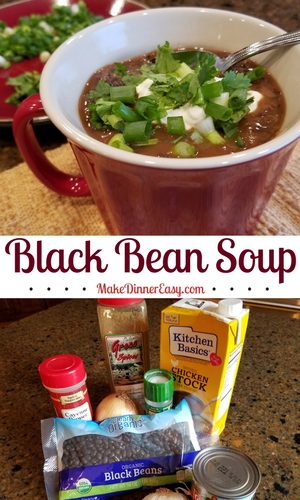 Click on any of the images below to see what I've pinned to Pinterest recently!.  If you like to see the recipes and cooking tips that I discover and pin, I'd love to have you follow me on Pinterest!

Visit Crystal@makedinnereasy's profile on Pinterest.
Thanks for stopping by! 
If you enjoy cooking or are looking for new recipes to try,
these are ways to see more yummy ideas: 
I also share all kinds of cooking tips and recipes on
Facebook . Twitter . Pinterest . and Instagram .
I'd love to have you follow along!

Each page on this site has a comment box, so if you want to share how a recipe turned out or something you added to make it even better, feel free to comment below!