Home Page

>
Soups and Stews
> Beef Barley Soup
Beef Barley Soup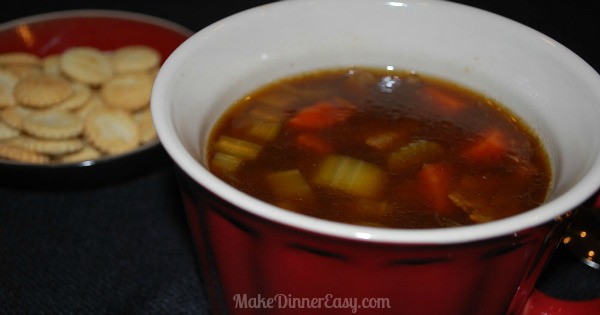 Looking for some warm up the tummy comfort food? How about this Beef Barley Soup Recipe which can be made easily from leftover roast beef. If you don't have that on hand, you can also brown some ground beef, or slice up some chuck steak. Whatever the source of beef, this recipe is super easy!
Beef Barley Soup Recipe

A splash of olive oil
A pat of butter (optional)
1 large carrot, chopped
1 large celery stalk, chopped
1 medium onion, chopped
Salt and pepper to taste
2 to 3 cups of chopped, cooked beef, or similar amount of cooked ground beef
A splash of worcestershire sauce (optional)
Basil, oregano, garlic powder to taste
8 cups beef stock or broth
1 large can of diced tomatoes, including liquid
3/4 to 1 cup dried pearl barley (more barley will make the broth thicker).


1. Heat the olive oil and butter in soup pot on medium low heat.
2. Add carrot, onion and celery. Add a dash of salt. Cook until vegetables are soft.
3. Add beef, basil, oregano and garlic powder. Continue to cook for a few more minutes.
4. Add a splash of worcestershire sauce.
5. Add remaining ingredients, bring soup to a boil.
6. Reduce heat and cover. Cook for at least an hour to allow the barley to expand and become soft.


Notes
This beef barley soup recipe is so hearty because the barley adds starch to the broth, slightly thickening it. Also, the beef broth and tomatoes have such bold tastes that it fills the mouth with flavor while it fills the tummy with warmth!

Here are some ideas to vary the recipe a bit, to make your own beef barley soup recipe.

-Try different herbs and spices. Sage, marjoram, savory and parsley are all good options.

-Like heat? Add some chili flakes, or a splash of Tabasco Sauce.

-A few green beans or asparagus tips thrown in 5 or 10 minutes before serving add to the look and taste of the soup.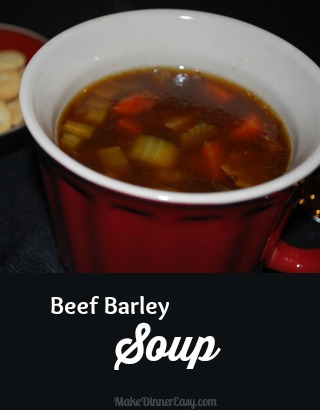 Click on any of the images below to see what I've pinned to Pinterest recently!.  If you like to see the recipes and cooking tips that I discover and pin, I'd love to have you follow me on Pinterest!

Visit Crystal@makedinnereasy's profile on Pinterest.
Thanks for stopping by! 
If you enjoy cooking or are looking for new recipes to try,
these are ways to see more yummy ideas: 
I also share all kinds of cooking tips and recipes on
Facebook . Twitter . Pinterest . and Instagram .
I'd love to have you follow along!

Each page on this site has a comment box, so if you want to share how a recipe turned out or something you added to make it even better, feel free to comment below!