Baked Potato Pie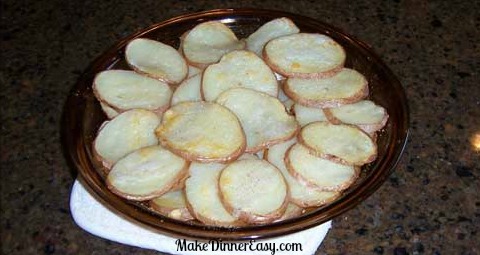 Preparation Time: 10 minutes. Baking Time: 60 minutes
2 large baking potatoes or 4 large red skin potatoes with the skins on (about 1.25#)
½ teaspoon salt, divided
2 Tablespoons butter, melted and divided
4 Tablespoons Parmesan cheese, divided

Preheat oven to 375°F. Generously grease a 9" glass pie plate with butter. Sprinkle 1 Tablespoon of the Parmesan cheese on bottom of the pie plate. Cut the potatoes into ¼" slices, starting at the narrow end of the potatoes. Layer the ingredients as follows in the pie plate:
1/3 of the potatoes, placed in a circular overlapping pattern
1/3 of the butter, 1/3 of the salt and 1 Tablespoon of the Parmesan cheese
Repeat the above layering 2 more times, ending with the last of the butter, salt and cheese. Cover with foil and bake a total of 60 minutes (30 minutes with foil on and 30 with it off). After 30 minutes, remove from the oven and press down on the foil with a pot holder to compress the potatoes, then remove the foil. Return to the oven, uncovered, for 30 additional minutes or until potatoes are hot and fully cooked.To serve, you can either leave the potatoes in the pie plate and cut pie shaped wedges. Or, you can invert this potato pie onto a plate, and then cut into pie shaped wedges.Serves 6-8
Leftovers are great for breakfast!
Click on any of the images below to see what I've pinned to Pinterest recently!.  If you like to see the recipes and cooking tips that I discover and pin, I'd love to have you follow me on Pinterest!

Visit Crystal@makedinnereasy's profile on Pinterest.
Thanks for stopping by! 
If you enjoy cooking or are looking for new recipes to try,
these are ways to see more yummy ideas: 
I also share all kinds of cooking tips and recipes on
Facebook . Twitter . Pinterest . and Instagram .
I'd love to have you follow along!

Each page on this site has a comment box, so if you want to share how a recipe turned out or something you added to make it even better, feel free to comment below!