Home Page

›
Easy Side Dish Recipes
› Mom's Baked Beans
Mom's Baked Beans
Prep Time: 30 minutes. Baking time: 0-30 minutes
Ingredients:

½ pound bacon, diced
½ of an onion, (about 1 cup) diced
2 (16.5 ounce) cans baked beans
2 Tablespoons brown sugar
2 Tablespoons red wine vinegar
¼ cup ketchup

Directions:

Cook bacon until crisp. Remove bacon from the pan using a slotted spoon, blot bacon with a paper towel to remove excess grease. Discard all bacon grease except for 1 teaspoon which should be left in the pan. Add the diced onion to this pan and sauté until onion is tender. Add beans, brown sugar, wine vinegar, ketchup, and bacon. Simmer for 10 minutes on low. The beans can be served at this point, or transferred to a baking dish and refrigerated. The prepared beans can be reheated, in the covered dish, in the oven by baking at 350°F for 40 minutes or until hot and bubbly.
Serves 6
Recipe Background

This really is my Mom's recipe. Nothing fancy, just easy and delicious. If I'm having a party, I usually make these in the morning and refrigerate. Then, just heat up in the oven before serving.
Now, I'll tell you we call these"Baked Beans" but they never go in the oven.  I suppose you could heat them up in the oven but they are prepared on the stove!

The questions comes down to which brand of canned beans to use.  I'd love to hear what your favorite brand is in the comment section below.  For me, I usually buy Campbell's Pork and Beans.  Now I'll warn you if you try to just warm these up straight out the can, you probably won't be to happy.  But add a little vinegar, brown sugar... now you're talking.  If you buy this brand, it usually has a little piece of what I assume is pork on top.  It usually looks quite fatty and I discard it.
Hope you enjoy this recipe as much as my family does!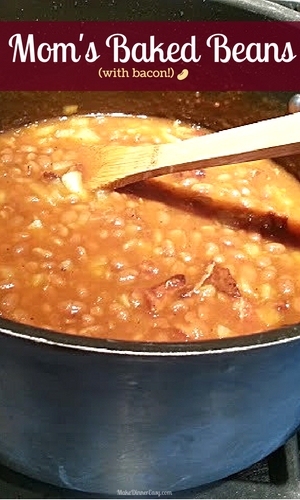 Click on any of the images below to see what I've pinned to Pinterest recently!.  If you like to see the recipes and cooking tips that I discover and pin, I'd love to have you follow me on Pinterest!

Visit Crystal@makedinnereasy's profile on Pinterest.
Thanks for stopping by! 
If you enjoy cooking or are looking for new recipes to try,
these are ways to see more yummy ideas: 
I also share all kinds of cooking tips and recipes on
Facebook . Twitter . Pinterest . and Instagram .
I'd love to have you follow along!

Each page on this site has a comment box, so if you want to share how a recipe turned out or something you added to make it even better, feel free to comment below!