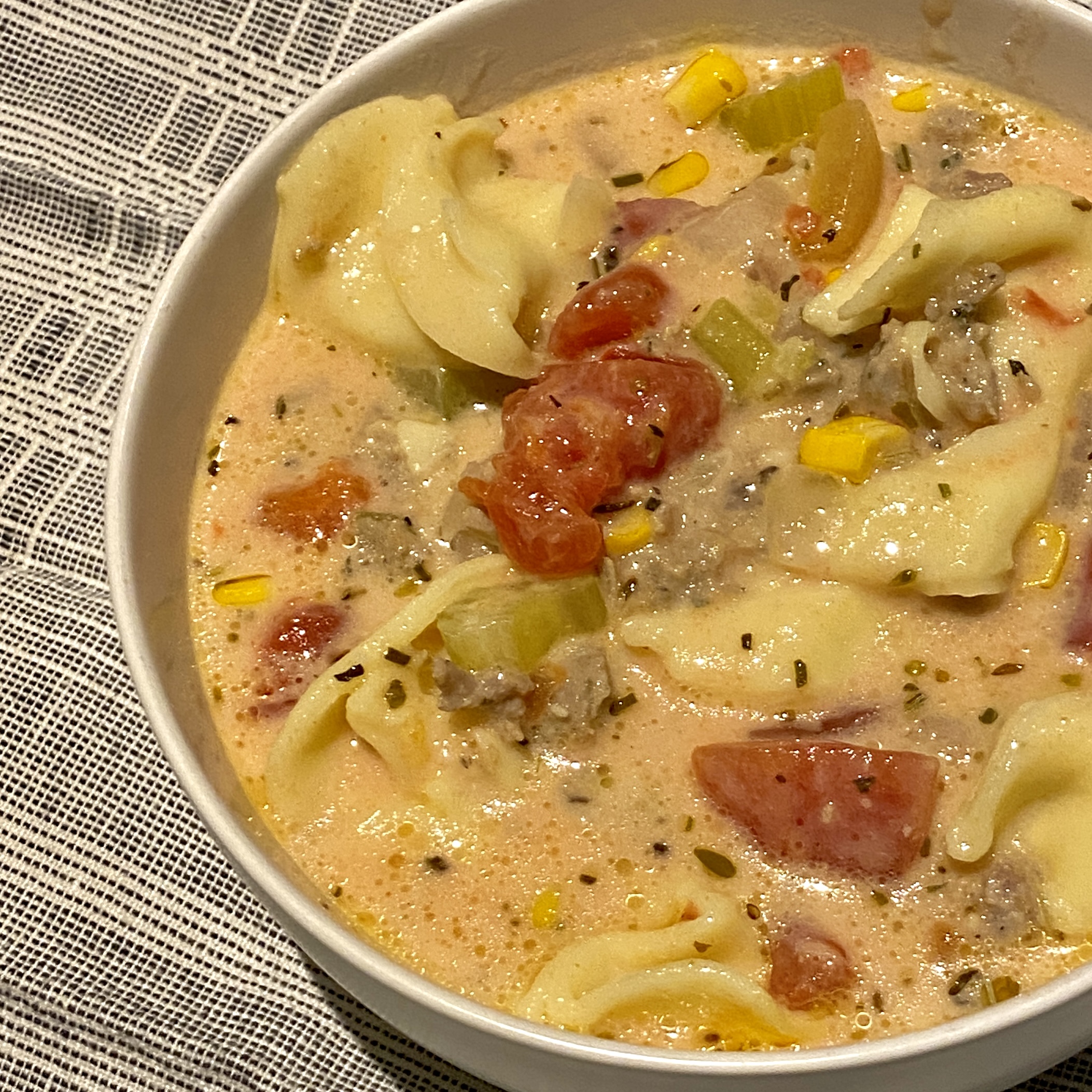 Quick Sausage and Tortellini Soup
(Prep Time: 10 minutes. Cooking Time: 30 minutes)
This easy sausage and tortellini soup is full of flavor with a creamy broth and cheesy pasta that everyone will love. This one pot soup has minimal prep and makes getting dinner on the table easy. 
This dish is perfect for chilly days, family dinners, or parties. The classic pairing of cheese tortellini, tomato, and sausage appeal to most  everyone making this loved by many. 
What to serve as a side dish?
A side salad with your favorite toppings. I made a spring spinach salad with sliced red onion, cranberries, walnuts, and Italian dressing.
Bread! Garlic bread, or just bread and butter pair well since you can dip into that creamy tomato broth.
Storage
If you have leftovers and reheat this soup the next day, it may thicken in the fridge. Just add enough milk to thin and adjust the seasonings.
This soup is best eaten within 3-4 days if stored in the fridge. The longer the tortellinis are in the broth, the more they will absorb leaving them softer. 
This soup is very freezer friendly! The best way to freeze is without the spinach and tortellini (their texture with change and become much softer), adding them when you reheat.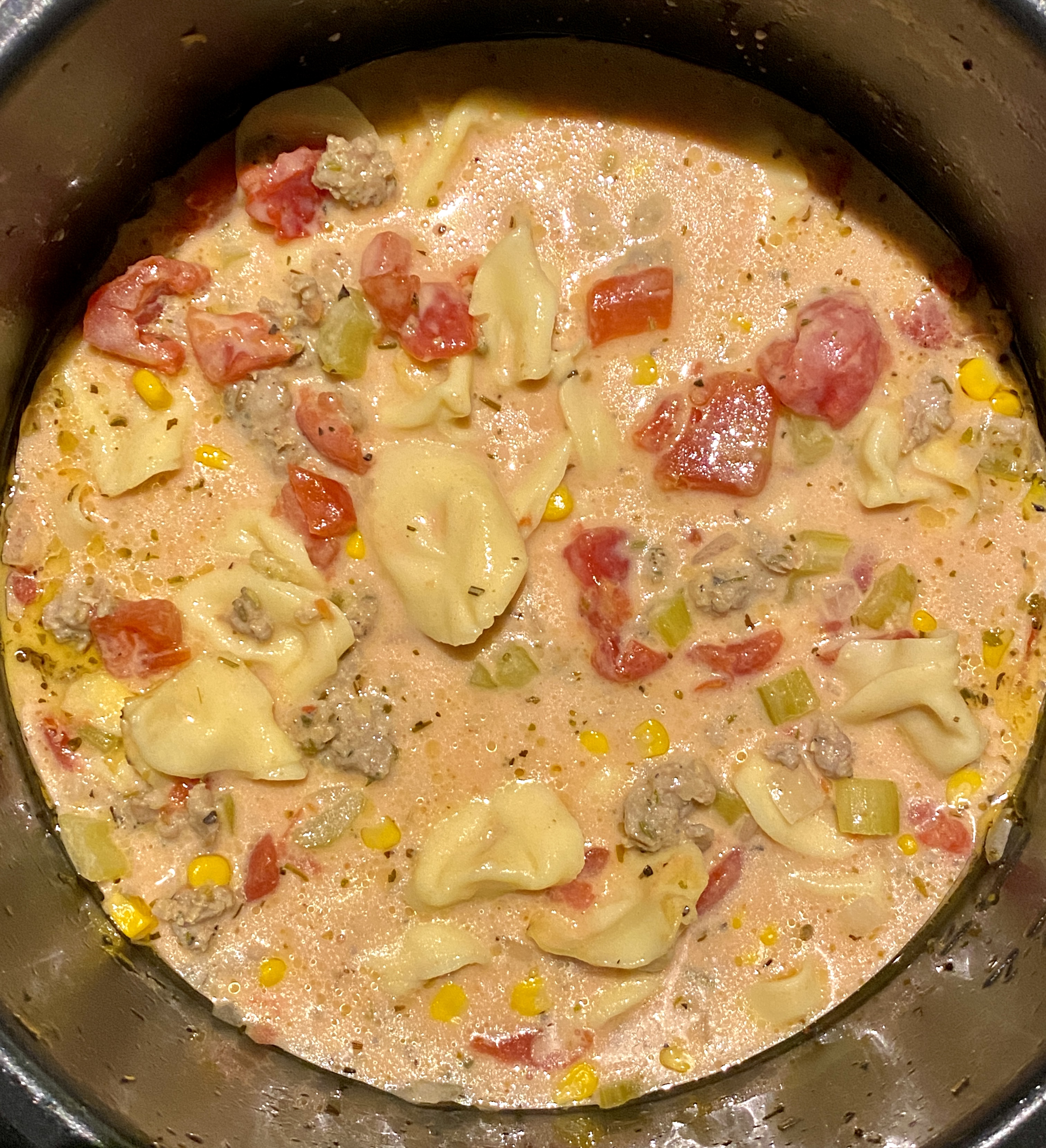 (Prep Time: 10 minutes. Cooking Time: 30 minutes)
Ingredients:                                                                         Servings:6

1 LB Italian Sausage

1/2 white onion chopped finely
2 celery sticks chopped finely 
4 cloves of  garlic minced 

4 cups chicken broth 

2 tablespoons flour

1 (28 oz) can of diced tomatoes

1 (15 oz) can of corn drained

1/2 teaspoon Italian seasoning

2 cups refrigerated cheese tortellini 

1 cup heavy whipping cream

2 cups baby spinach optional

salt and pepper to taste
Instructions:
Add the sausage meat to a large stock pot. Sauté sausage over medium heat, stirring occasionally to break sausage into small crumbled pieces. Cook for 10 minutes or until the sausage is fully browned.
Remove fully cooked sausage from the pot and set aside in an extra bowl. Leave 1 tablespoon of sausage fat in the stock pot to cook vegetables in (drain rest of fat from the meat). 
Add the chopped onion, celery, and garlic to the stock pot and sauté for 3 minutes or until mixture becomes fragrant. Add in flour, stir constantly until mixture in coated. 
Pour in chicken broth and stir until flour is completely dissolved into the broth. 
Add the canned tomatoes, corn, sausage, and Italian seasoning. Bring the mixture to a boil by increasing the heat to medium/high. 
Add the tortellini in and reduce the heat to low. Cook for 5 minutes or until the pasta is cooked. 
Add cream, spinach, and salt and pepper to taste. 
Enjoy!
Click on any of the images below to see what I've pinned to Pinterest recently!.  If you like to see the recipes and cooking tips that I discover and pin, I'd love to have you follow me on Pinterest!

Visit Crystal@makedinnereasy's profile on Pinterest.
Thanks for stopping by! 
If you enjoy cooking or are looking for new recipes to try,
these are ways to see more yummy ideas: 
I also share all kinds of cooking tips and recipes on
Facebook . Twitter . Pinterest . and Instagram .
I'd love to have you follow along!

Each page on this site has a comment box, so if you want to share how a recipe turned out or something you added to make it even better, feel free to comment below!