Home Page

>
Beef Recipes
> Grilled Chuck Steak
Recipe Background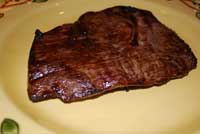 Try this grilled chuck steak recipe if you would like to use a more economical cut of meat, but still have a tender steak. The trick to achieve that is to make sure you marinate the steak for at least 8 hours, make sure you do not overcook the steak, and to cut the steak against the grain when serving. I often make extra steak and use the leftovers over salad greens the next day for lunch or dinner. If you don't want to open a whole bottle of wine just to make this recipe, consider buying a four-pack of small wine bottles. I usually keep these in the house for making marinades when I don't think we will be drinking wine with dinner.
Grilled Chuck Steak
with Red Wine Marinade
Thin, boneless chuck steak (1/2 – 1" thick)
Marinade: (enough to marinate 3-4 # of steak)
¾ cup red wine (1 mini bottle)
2/3 cup soy sauce
¼ cup olive oil
¼ cup balsamic vinegar
2 Tablespoons Worcestershire sauce
2 teaspoons Dijon mustard
3 cloves garlic, minced
1 Tablespoons brown sugar

Combine marinade ingredients in a large (gallon sized) zip-style bag. Place the steak in the bag. Place the bag in a large bowl (to prevent any leaks in the fridge!) and refrigerate for 8 hours or overnight. Remove steak from marinade and grill over medium heat until medium rare (about 4 minutes per side depending on thickness). Remove from grill and cover with foil. Allow steak to rest for 5 minutes before cutting or serving. Cut across the grain.
Find Crystal Maleski on Google+
Privacy Policy & Affiliate Partnerships
© 2008-2014 MakeDinnerEasy.com All Rights Reserved.