Home Page

>
Beef Recipes
> Easy Pot Roast
Recipe Background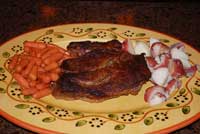 I love an easy pot roast recipe and this beef pot roast recipe only has three ingredients. How is that for simple! Thanks go to Diane from Window Designs by Diane who sent in this recipe. I made it for my my family and it was simple to make and delicious to eat.
When cooking a pot roast, many recipes call for a dutch oven, which is pictured at the bottom of this page. If you don't have a dutch oven, you can line a 9"x13"x2" pan with a 3 feet long piece of extra wide heavy duty aluminum foil. Then carefully bring all the edges of the foil together to completely seal in the meat and liquid. Some air space should be left between the meat and the foil.
Easy Pot Roast
Preparation Time: 10-12 minutes. Cooking Time: 3 hours
1 (3-4 pound) chuck roast
1 (12 ounce) bottle of beer
1 (.7 ounce) envelope Italian dressing mix

Brown the meat on all sides in a lightly oiled 5 quart Dutch oven over high heat. This may take about 4 minutes per side. Remove from heat and add beer and dressing mix.
Bake covered at 300'F for 3 hours or until tender turning once.
Serve the meat with pan juices along side of roasted vegetables and mashed potatoes if desired.
Cook's notes: If you are not using a dutch oven and are cooking the meat in a foil lined pan, as described above, brown the meat in a non-stick skillet over medium heat and then transfer the browned meat into the foil lined pan and add the beer and dressing mix. Just make sure the beer stays within the foil and doesn't go over the edge. If you are using this method, the meat does not need to be turned while baking, it's better to keep the foil completely sealed.
I have also made this recipe successfully in the slow cooker. Just brown the meat on both sides, and place the meat in the slow cooker. Then pour the beer slowly into the same pan, add the seasoning mix, and bring to a boil while stirring. Pour this liquid over the meat, cover, and cook on low for 8-10 hours. If the meat is too large to fit in the bottom of the slow cooker, just cut it into several pieces.
Privacy Policy & Affiliate Partnerships
© 2008-2013 MakeDinnerEasy.com All Rights Reserved.