Home Page

›
Easy Chicken Recipes
› Fettuccini Alfredo with Chicken and Broccoli
Fettuccini Alfredo
with Chicken and Broccoli

(Prep Time: 20 minutes. Cooking Time: 20 minutes)

Ingredients:

1 pound, dried fettuccine
1 teaspoon cornstarch
1 (12 ounce) can evaporated milk
1 Tablespoon butter
1 Tablespoon olive oil
6 cloves, garlic, minced
4 ounces low fat cream cheese
¼ teaspoon salt
¾ cup grated Parmesan cheese
2 cups cooked chicken, diced
1 cup steamed broccoli florets

Directions:

1. Cook fettuccine according to package instructions or individual preference, drain and return to pot
2. Mix together cornstarch and milk and set aside (you may have to stir a bit to mix completely).
3. In a medium sized saucepan, heat olive oil and butter until butter is melted but not browned. Add garlic and sauté until tender. Add milk mixture (you may need to stir it again before adding to make sure it is well blended). Stir constantly until mixture is thickened.
4. Cut cream cheese into small cubes and add to saucepan. Stir and continue to heat on low-medium until cream cheese is melted. Add salt.
5. Steam broccoli until fork tender and warm diced chicken in microwave or on the stove.
6. When ready to serve, pour sauce over drained fettuccine, stir in Parmesan cheese, chicken and steamed broccoli.
Cook's notes: Rotisserie chicken and frozen steam in the bag broccoli work fine in this recipe. The chicken and broccoli can also be omitted and the fettuccine can be served as a side dish.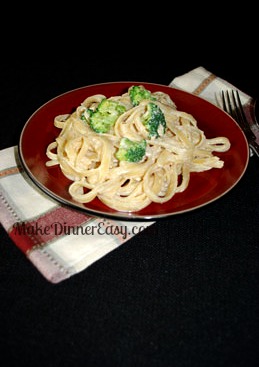 Recipe Background

This recipe for Fettuccine Alfredo is very versatile. You can add your choice of meat, seafood or veggies to make this a one pot meal. Omit the chicken and you have a meatless meal or side dish. I've tried to lower the fat content of this classic by using olive oli as well as butter. You can further reduce the fat by using fat free evaporated milk or by substituting fat free half and half for a richer taste.
Thanks for stopping by! 
If you enjoy cooking or are looking for new recipes to try,
these are ways to see more yummy ideas: 
Each week (usually on Mondays) I send out an  e-Newsletter to over 11,000 people with a link to the free dinner menus and printable grocery list that I've created for the week.  You can Sign Up for the Newsletter (it's free) to be added to my next mailing.
I also share all kinds of cooking tips and recipes on
Facebook. Twitter. Google+, Pinterest, and Instagram. 
I'd love to have you follow along!

If you're interested in social media, or want to pick up tips
on how to use it, come join me at Clear Path Social on Twitter. 
Each page on this site has a comment box, so if you want to share how a recipe turned out or something you added to make it even better, feel free to comment below! 

Crystal