Home Page

>
Cooking 101
> Cooking Video
Online Cooking Video Series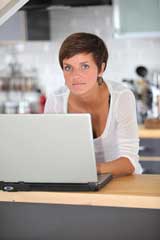 Do you want to learn how to cook food, or to become a better cook? This cooking video series is terrific and can be viewed from your computer.
I've had many requests to include more photos and videos to this site. Instead of making my own videos, I've gone to the pros and have partnered with Rouxbe Cooking School. They produce very high quality videos that will teach you cooking basics and more. I think both the beginning cook as well as the experienced cook will find these videos valuable.
As an affiliate partner, they are allowing me to show sample videos on this site. I hope that you pick up some new cooking techniques and gain confidence by watching them. This is a sample of one of their videos:

Free Cooking School Lesson on Pan Frying
Rouxbe site
and sign up. There is nothing better than seeing a demonstration when trying to learn something new. I hope you find these videos a valuable addition to this site.
Click on any of the images below to see what I've pinned to Pinterest recently!.  If you like to see the recipes and cooking tips that I discover and pin, I'd love to have you follow me on Pinterest!

Visit Crystal@makedinnereasy's profile on Pinterest.
Thanks for stopping by! 
If you enjoy cooking or are looking for new recipes to try,
these are ways to see more yummy ideas: 
Each week (usually on Mondays) I send out an  e-Newsletter to over 11,000 people with a link to the free dinner menus and printable grocery list that I've created for the week.  You can Sign Up for the Newsletter (it's free) to be added to my next mailing.
I also share all kinds of cooking tips and recipes on
Facebook. Twitter. Google+, Pinterest, and Instagram. 
I'd love to have you follow along!

Each page on this site has a comment box, so if you want to share how a recipe turned out or something you added to make it even better, feel free to comment below!  

Crystal