Online Cooking Video Series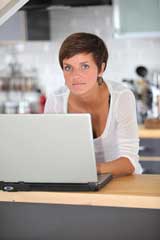 Do you want to learn how to cook food, or to become a better cook? This cooking video series is terrific and can be viewed from your computer.
I've had many requests to include more photos and videos to this site. Instead of making my own videos, I've gone to the pros and have partnered with Rouxbe Cooking School. They produce very high quality videos that will teach you cooking basics and more. I think both the beginning cook as well as the experienced cook will find these videos valuable.
As an affiliate partner, they are allowing me to show sample videos on this site. I hope that you pick up some new cooking techniques and gain confidence by watching them. This is a sample of one of their videos:

In addition to their sample videos on this site, I can also offer you a free, 14 day trail with full access to their full length videos. If you want to continue with their online cooking classes and recipe demonstrations you can for $29.95 a month, but there is no obligation and you can cancel the trial without paying anything. If you are interested in signing up for the trial, go to the Rouxbe site and sign up.
There is nothing better than seeing a demonstration when trying to learn something new. I hope you find these videos a valuable addition to this site.
Go from Online Cooking Video Series To:
Dinner Menus and Recipes for This Week