http://www.nestle.com/ http://see.walmart.com/nestle/backtoschoolvalues/ http://see.walmart.com/nestle/
Nestle Easy Meal Ideas at Wal-Mart


Link to Download the e-book
Easy Thanksgiving Dinner Ideas from makedinnereasy.com

- thanks for reviewing it, and thanks for not sharing this link with anyone!
Current Draft of my Sales Page:
Thanksgiving Dinner Doesn't Have to be Hard!
I told a friend I was writing out Easy Thanksgiving Dinner Ideas, her response was that the easiest idea would be for me to make the dinner and bring the food to her house.
While I can't do that for her or for the followers of this site, I can do the next best thing. I have written up step by step directions and easy recipes to help you make a great Thanksgiving dinner yourself.
If you use this site, you know that I'm a midwestern Mom who cooks all the time for my family and friends. I've included in this guide the recipes I make for my own family along with tips I often share with my friends when they call in a panic the night before Thanksgiving. To keep it real, I even share one of my own mishaps to let you know that things can go awry, but with a little planning you can pull off an amazingly easy and amazingly tasty holiday dinner.

The Easy Thanksgiving Dinner Ideas E-Book Includes: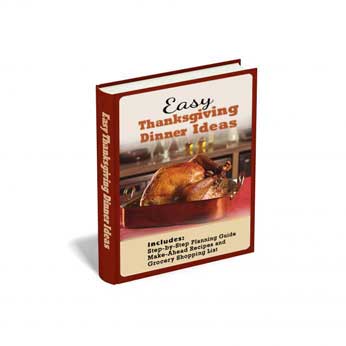 Ideas for new Thanksgiving Traditions to start at your house


Planning activities you can start up to a month before Thanksgiving


Daily to-do list for each day during the week before Thanksgiving


Suggestions for figuring out what kind of turkey to buy and how much to buy


Brining, Rub, and Basting Recipes for roasting a moist turkey
Directions for cleaning and prepping the turkey before roasting


A sample dinner menu, giving you an idea of what to serve


Easy and delicious recipes, including a No-Lump Make-Ahead Turkey Gravy Recipe!


A detailed grocery shopping list, cross-referenced by recipe and organized by aisle to make shopping easier


Craft and activity ideas for children


Dinner Conversation starters to keep the Thanks in Thanksgiving


Bonus – My personal tips and reminders to make the day successful and the dinner delicious
I have condensed all of the information into a 25 page guide which includes photos of many of the recipes. I am offering for sale for $3.99.
You can find some of the recipes on my site for free but this guide provides more than recipes, it gives you a plan that breaks down all the activities you need to do in the weeks coming up to Thanksgiving.