Speedy Chili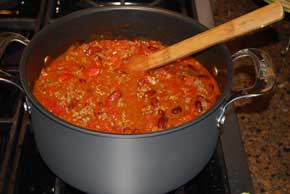 (Prep Time: 10 minutes. Cooking Time: 30-45 minutes)
(Can be made ahead or made ahead and frozen)

2# lean ground round
1 onion chopped
4 Tablespoons, flour
2 Tablespoons chili powder
2-4 teaspoons salt, or to taste
1/4 teaspoon black pepper
2 1lb cans chopped tomatoes
2 1lb cans kidney beans
4 teaspoons red wine vinegar

Place meat and onion in a large stock pot and brown very well. In a small bowl, combine flour, chili powder, salt and pepper and add to meat. Turn off heat and stir until flour is combined well. Add vinegar, tomatoes and liquid from beans and bring to a boil. Cook on med for 20 minutes. Add beans. Simmer until desired consistency. Serve with chopped onion, cilantro, sour cream and shredded cheese.





See more Beef Recipes Like Speedy Chili
Return to Dinner Menus and Recipes for This Week