Shrimp Scampi
by Tracy
(Raleigh, NC)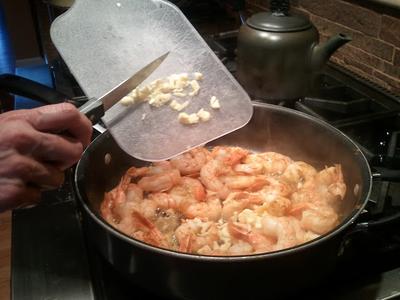 Love the garlic in this recipe! You can add extra if you want!
Thanks to Tracy for submitting this recipe, her words describe it well - "So good and so easy!"

1.5 Tbsp olive oil
1.5 Tbsp minced garlic
1.5 lbs peeled and deveined jumbo shrimp
1/4 cup finely chopped fresh flat-leaf parsley
1.5 Tbsp fresh lemon juice
1/2 tsp salt
1/8 tsp ground red pepper

Heat oil in large nonstick skillet over med-low heat; add garlic, and cook 1 minute. Add shrimp, and cook 5 min or until shrimp are done, stirring occasionally; remove pan from heat. Stir in parsley and remaining ingredients.

Comments from Crystal: When I make this dish I like to make sure the shrimp is as well drained as possible, otherwise the water from the shrimp can dilute the lemony garlic taste. I recommend putting the shrimp in a colander and rinse them well. Then before transferring them to the pan, take a paper towel and press lightly on the shrimp to absorb as much liquid as possible. Although raw shrimp works best for this recipe, if cooked shrimp is on sale, I have also used it as well with just a shorter cooking time.

Yields 4 servings.
Join in and write your own page! It's easy to do. How?
Simply click here to return to

Seafood Recipes From Friends

.
Privacy Policy & Affiliate Partnerships
© 2008-2013 MakeDinnerEasy.com All Rights Reserved.