Home Page

›
Easy Chicken Recipes
› Mediterranean Grilled Chicken Legs

Mediterranean Grilled
Chicken Legs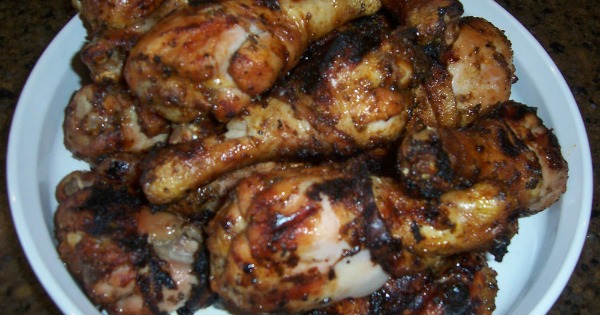 Preparation Time: 5-10 minutes. Marinating Time: 30 minutes or more. Grilling Time: 45 minutes
Juice of 1-2 lemons or about 2-3 Tablespoons fresh juice (I've also used a combo of lemons and limes)
1 Tablespoon dried oregano
3 cloves of garlic, minced
1 Tablespoon olive oil
1 teaspoon salt
¼ teaspoon freshly ground black pepper
6-8 chicken legs (skin on or off, your preference)

Place the first 6 ingredients in a zip style bag. Gently squeeze the bag near the contents to mix them together. Place chicken legs in the bag, seal, and turn the bag so that the marinade coats all of the legs. Place the bag in a bowl in the refrigerator (to prevent leaks!) and allow to marinate for at least 30 minutes or up to 10 hours (whatever you have time for).
Grill until chicken is thoroughly cooked (about 40-45 minutes with medium heat)
Serves 4-6
Recipe Background
This recipe for Mediterranean Grilled Chicken Legs is a very easy and economical main dish. Although you can use any type of chicken, I opted for chicken legs because they are often on sale and are kid (and adult!) friendly.  A few tips to consider when making this recipe:
Zip style bags are a really convienent way to marinate meats.  If I'm serving a crowd, I use the jumbo size which can easily fit a large family pack of chicken legs.  For a smaller amount, the gallon size will work just fine
When I'm using dried herbs, such as oregano, I like to place the dried herbs in the palm of my hand, and smash the herbs a bit with the palm of my other hand.  The heat of my hands and the rubbing action seems to release more flavor from the herbs.

By placing all the marinade ingredients in the bag first you can avoid having to wash a bowl that you mixed your marinade ingredients.
To avoid overcooking, I like to use an instant read meat thermometer.  Chicken is considered cooked by the FDA when it reaches an internal temperature of 165'F. 

Thanks for stopping by! 
If you enjoy cooking or are looking for new recipes to try,
these are ways to see more yummy ideas: 
Each week (usually on Mondays) I send out an  e-Newsletter to over 11,000 people with a link to the free dinner menus and printable grocery list that I've created for the week.  You can Sign Up for the Newsletter (it's free) to be added to my next mailing.
I also share all kinds of cooking tips and recipes on
Facebook. Twitter. Google+, Pinterest, and Instagram. 
I'd love to have you follow along!

If you're interested in social media, or want to pick up tips
on how to use it, come join me at Clear Path Social on Twitter. 
Each page on this site has a comment box, so if you want to share how a recipe turned out or something you added to make it even better, feel free to comment below! 

Crystal