Recipe Background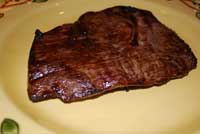 If you are looking for easy steak recipes, this Marinated Flank Steak Recipe is about as easy as it gets. The instructions include options for broiling as well as grilling, either option allows you to make a quick and tasty dinner.
Marinated Flank Steak
1 cup low-sodium soy sauce
1/4 cup lemon juice, or the juice of 1 lemon
1 Tablespoon honey
1 Tablespoon brown sugar
6 garlic cloves, minced
1 beef flank steak (1.5 - 2 pounds)

Combine the first five ingredients in a gallon zip-style bag. Add the steak. Seal the bag and turn to coat. Refrigerate for 6-10 hours.

Broiler Method:
Remove the meat from the marinade. Place the meat on a foil lined, rimmed baking sheet. Broil 4-6 inches away from the broiler for approximately 8 minutes per side (total of 16 minutes). Remove from the oven and tent with foil for about 5 minutes. Slice against the grain.

Grill Method:
Remove the meat from the marinade. Place on a grill over medium heat. Grill approximately 3-4 minutes per side (a total of 6-8 minutes)
Use a meat thermometer in order to cook to desired degree of doneness. (145' - 160'F)
Serves: 6






See more Beef Recipes Like Marinated Flank Steak
Return to Dinner Menus and Recipes for This Week