Recipe Background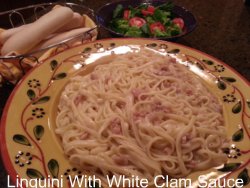 My kids are big fans of Linguine with White Clam Sauce. I've even gotten my kid's friends to eat this dish, much to the surprise of their parents. I try to keep canned clams and linguine in the house for nights when I need to make a quick dinner. This recipe is also very forgiving. If you don't want to use clam juice or white wine, just add additional chicken broth.
Linguine with White Clam Sauce
(Prep Time: 10 minutes Cooking Time: 20 minutes)
1/3 cup extra virgin olive oil
1 medium onion, chopped
6 garlic cloves, minced
3 ½ Tablespoons flour
1/8 teaspoon cayenne pepper or red pepper flakes(more or less based on preference)
2 teaspoons dried oregano
1 teaspoon each salt, or to taste
1 cup dry white wine
1 (8 ounce) bottle clam juice
3 (6.5 ounce) cans minced clams
1 pound dry linguine
½ cup grated Parmesan cheese

Cook linguine according to package directions. Meanwhile, heat olive oil in a medium skillet over medium low heat. Add onion and garlic and sauté until tender but not browned. Stir in flour. When flour is combined, add salt, pepper and oregano. Add wine, bottled clam juice and liquid from canned clams. Stir constantly until mixture thickens. Add drained minced clams. Add clam sauce mixture to cooked and drained linguine. Add Parmesan cheese and toss to coat. Serve immediately.

Prep Ahead note: Sauce can be made 1-2 hours ahead of time, refrigerated and reheated prior to serving.
Serves 6





See More Pasta Recipes Like Linguine with White Clam Sauce
Return to Dinner Menus and Recipes for This Week