Recipe Background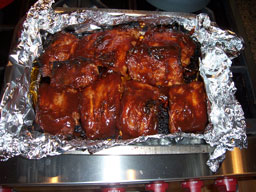 These Oven Braised BBQ Ribs allow you to slow cook ribs in the oven when it's too cold, rainy, or inconvenient to grill outside. Although this recipe calls for bottled sauce, you certainly can use homemade if you prefer.



Oven Braised BBQ Ribs
Preparation Time: 30 minutes. Baking Time 2-3 hours)
2 slabs baby back ribs
1 large onion
1 bottle of beer (any type will do)
1 (28 ounce) bottle of BBQ Sauce

Cut slabs of ribs into sections of about 3-4 rib each. Place ribs in a large stock pot. Add onions and beer and then add enough water to cover the ribs. The water should be about 1"over the ribs. Bring the liquid the stock pot to a boil, reduce heat slightly and continue to cook for 20 minutes. If any solids or froth rises to the top, scoop this off and discard.
Meanwhile, preheat the oven to 300°F and place the BBQ sauce in a medium sized sauce pan and simmer on low. Prepare a large roasting pan (I use a 17"x12"x2" pan) by lining it with a large piece of heavy duty aluminum foil (approximately 40"long).
When ribs have finished par-boiling, remove the ribs from the large stock pot using tongs. Coat all sides of each rib section with the bbq sauce and place the ribs carefully in a single layer in the foil lined roasting pan (make sure you don't puncture the foil!). Pour about ½ of the remaining sauce over the ribs, saving the remaining sauce. Bring the ends and the sides of the foil together, crimping tightly. Bake, with the foil well sealed for 2-3 hours at 300°F.
Carefully unseal the foil (hot steam will escape, be careful!) and brush the remaining bbq sauce over the tops of the ribs. Return the uncovered ribs to the oven and broil for 1-3 minutes until slightly browned.






See More Pork Recipes Like Oven Braised BBQ Ribs
Return to Dinner Menus and Recipes for This Week